Customizing the homepage and announcements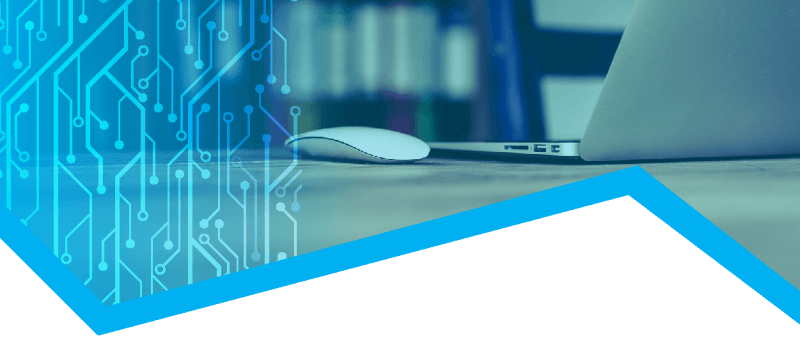 TECH TALK SESSION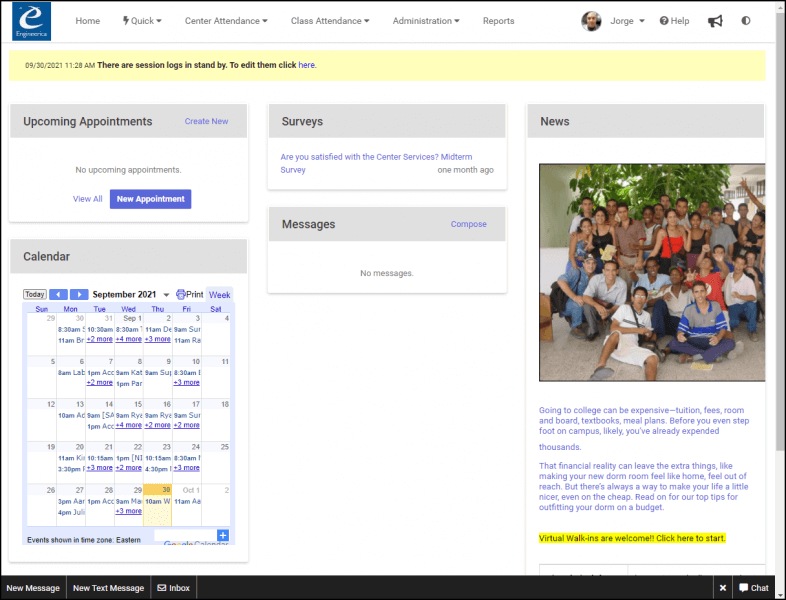 The Accudemia homepage is the first thing your students see when they log into the system. Although it may not seem important, it can set the stage for what they can expect from the Accudemia system, and from your center. That's why in this week's Tech Talk session, Support Specialist Jorge Rodriguez went over some important tips for making the most out of this very customizable space.
First, he emphasized that there is no right or wrong way to set up the homepage. Different centers and schools arrange their homepages in different ways. We encourage you to experiment with which modules you display and how, and see what your students respond to.
During the presentation, Jorge showed an example home page. He arranged the appointments and center calendar on the left, surveys and messages in the center, and the news module on the right. A few important things to note about these modules:
The appointments module shows students their upcoming appointments, and also allows them to create future appointments.

The Google calendar you can share should be a public calendar for your specific center, not an individual person's calendar. This can include center events such as workshops, or college-wide events, as examples. To share the calendar, make sure first that it's available to the public, and find the calendar ID in Google. Copy that and in Accudemia, paste the ID into the Home Page Information page, which you can access through the Control Panel.

The surveys module will show students any outstanding surveys they haven't taken yet.

The messaging module shows students any recent messages they have been sent through Accudemia.
Let's go over the news module in a bit more detail, because there's a ton you can do with it! As you can see, it can include images, links, and text formatting. The text editor is very user-friendly, as it is a "WYSIWYG"-style editor (which stands for, "What You See Is What You Get"), for in-line formatting. However, if you're comfortable using HTML, that's an option as well! Just click the second button from the right in the editor to insert HTML code.
Jorge made some suggestions for design considerations for this particular module:
We recommend making the content compact and easy to read, since students are not likely to spend a lot of time on this page unless they have another task to complete, and you want to be able to grab their attention quickly.

We also recommend using this section to share

virtual links

that students can use to easily join a virtual tutoring or support session, if your center offers that. Putting this kind of content on the home page is the best way to ensure that students will be able to access it quickly and easily.

As mentioned, images can be inserted into this module, but they must be under 1 MB in size, and you'll want to pay attention to their length and width so they fit the available space of the screen correctly.
Keep in mind that if your account has multiple centers with licenses, they will all be sharing this one homepage, so you may want to make the contents of the home page more generic so that students don't get confused.
In addition to the home page, don't forget that the login page is also customizable! You can access the login page editor by going to the Control Panel, and then clicking on Appearances and Themes. Note that if your account uses SSO (single sign-on) for sign-in, you won't be able to customize the login page as users won't be accessing it, but you'll have all the great benefits of using SSO!
Finally, Jorge shared some great resources that you can use when designing your news module or login page:
The

Adobe Color Wheel

allows you to create color pallets and makes suggestions as to which colors work best with each other.

Coolors.co

is another great color resource.

Pixabay.com

is a great resource for free stock images.

Emojipedia

allows you to quickly find and copy emojis for us on a website or social media post.

Lordicon

has animated icons that can help liven up a post or webpage.

Autodraw

uses AI to guess what kind of object you want to draw.
As you can see, there's plenty you can do to customize and personalize your Accudemia home page. We encourage you to experiment and ask your students and staff for feedback on what modules they'd like to see. As always, let us know if you have any questions, and we hope to see you at the next Accudemia Weekly Session!
Join us next time!
Engineerica Systems is pleased to present our Tech Tip segment recap for 09/28/2021 for the weekly Accudemia sessions. Held every Tuesday at 1 pm EST, Accudemia clients can join a session to learn about a quick, useful topic from one of our Support Specialists. Each Thursday, we'll follow up Tech Tip Tuesday with a blog recapping that week's topic. If you're an Accudemia client and would like to join us for the next session, just visit https://www.engineerica.com/accudemia-weekly-sessions/.