Tutor Schedules: Management in Accudemia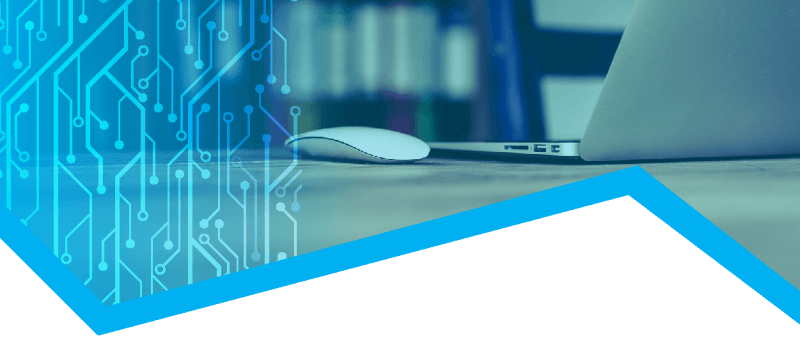 TECH TALK SESSION
Setting up your staff's schedules in Accudemia is an important step in managing your center and making the most out of your Accudemia license. For this week's Tech Talk session, Support Specialist Nick Armstrong walked attendees through the major steps associated with this process.
Prerequisites
Before you can start scheduling your staff or tutors, there are a few things Nick emphasized that must be set up in your account.
First, make sure courses and services have been added to your center. Do this by navigating to Administration -> Centers and Classrooms in Accudemia. Select the center where you want to set this up (ideally, it will be yours! You should only see the locations you're scoped to in any case).
The window that pops up will have several tabs, including a Courses tab and a Services tab. These are where you set the courses and services that are available in your location. For Courses, you'll be able to choose from any courses that have been imported or added to your account. If your center could conceivably help with any Course, click the box that indicates all courses should be available on the General Info tab.
For Services, if this is your first time setting up your center in Accudemia, you'll need to add the ones that will be offered in your center. If there are already services from an existing setup, review them to see if you want to add or inactivate any of them (for data accuracy purposes, Services cannot be deleted, but inactive ones will not appear during the sign-in or appointment process). We generally recommend having 3-5 services active per center, though your exact number may vary depending on the nature of your center.
For each Service, you'll have three options regarding its availability. First, you can set a Service to skip the waiting line. This will only be relevant if your center utilizes Waiting Lines in Accudemia. When this option is activated for a Service and the Center does utilize Waiting Lines either regularly or occasionally, a student who signs in for this Service will not be placed in the Waiting Line and will instead be signed directly into the Center. This is most useful for services such as "Study Space", "Computer Use", or other similar services that don't require students to wait to utilize the center.
The second option is to hide the Service from appointments, meaning that students will be able to sign in as a walk-in using this Service, but they will not be able to make an appointment for it. Again, this is most useful for services such as "study time" or "computer use", where students will simply be able to sign in without having a prior reservation or appointment.
The third option indicates whether the Service is "virtual" or "face-to-face". If your center offers assistance virtually, you'll want to make sure you have the Zoom integration or Connect Links set up for your virtual meeting platform. This setting lets Accudemia know which Services should provide a meeting connection link when students sign in for them or make an appointment for it.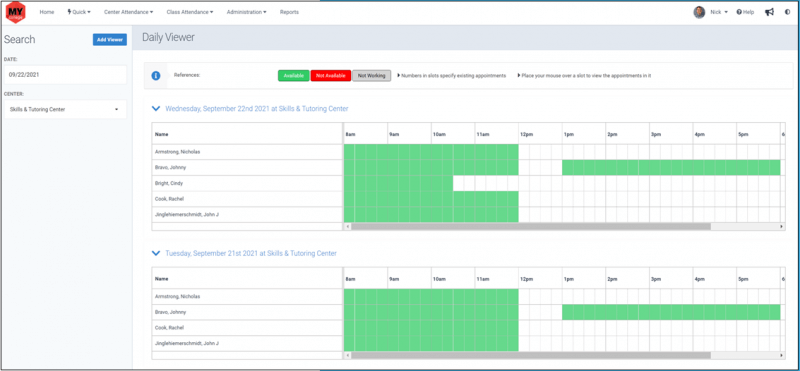 Step-by-Step Process
Once your Courses and Services are the way you want them, it's time to set up your Center's Availability! This is of course assuming your tutors have already been imported or added and are scoped to your location.
First, set up your Tutor/staff course assignments. This can be done via an import, or you can go to Administration -> User Accounts. Indicate which courses the tutor or staff member should be available to assist with. To make things a bit easier, you can copy these assignments from another term, just make sure you double-check that everything is correct. Some tutors may be available to help with any course (such as a writing tutor), in which case you could indicate that as well. If your staff members do not assist with any courses at all, simply leave this area blank such as in advising or more "service only" setups where there's no course associated.
Now it's time to set up your tutors' schedules. Go to Center Attendance -> Tutor Schedules. Using the left side menu, search for the tutor's name and indicate which term this schedule will apply towards (if you don't see your current or upcoming term, check with your institution's IT office).
When you select the tutor from the left menu, you'll also need to select the mode you'll want to work in. The "Semester Mode" indicates the normal workweek for your tutor throughout the semester. "Exceptions" and "Merge mode" allow you to add additional one-time shifts, or exceptions, as needed throughout the term.
Once you're in the mode and filters you want, simply click and drag on the calendar to build the schedule. Every time you do this to create a shift, a window will pop up to ask for additional info, such as the type of shift you're creating, and which courses and services the tutor should be available for during that given time. You can also specify how many students should be able to make appointments with students during this time. If left blank, this will allow an unlimited number of students to make appointments during this shift.
Check Coverage
Finally, Nick covered with the attendees how to check their course or service coverage in their center. This can be done to get an idea of weekly availability in a location; make sure that there is enough coverage for more popular courses, services, and times; or a variety of other reasons.
To check the coverage in your center, go to Center Attendance -> Daily Viewer, and then select the center name on the left side menu. Choose the date you want to view, and you'll be able to see your center's coverage for that day.  And keep adding days in this fashion to view the whole week at once.
We hope this article has given you more insight into the capabilities of Accudemia concerning the setting and viewing tutor schedules. In our next post, we'll review customizing the Accudemia homepage and announcements!  Be sure to join our next Accudemia weekly session!
Join us next time!
Engineerica Systems is pleased to present our Tech Tip segment recap for 09/21/2021 for the weekly Accudemia sessions. Held every Tuesday at 1 pm EST, Accudemia clients can join a session to learn about a quick, useful topic from one of our Support Specialists. Each Thursday, we'll follow up Tech Tip Tuesday with a blog recapping that week's topic. If you're an Accudemia client and would like to join us for the next session, just visit https://www.engineerica.com/accudemia-weekly-sessions/.