New Reports in Accudemia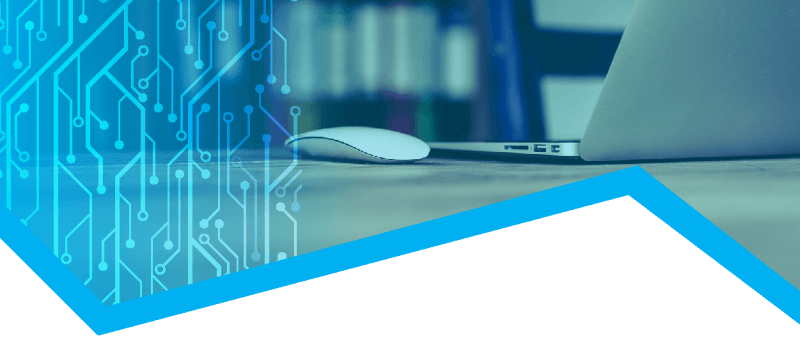 TECH TALK SESSION
At Engineerica, we like to say that reports are our clients' reward for all their hard work in tracking student usage of their centers, and our developers are always looking for ways to make those rewards more valuable for our clients. In this week's Tech Talk session, Senior Support Specialist Nick Armstrong went over the latest reports added to the system, which we hope will help our users in their quest to show the value of their services! There were quite a few new reports added, so we'll summarize the important points about all of them here, but if you want to learn more, please reach out to our support team!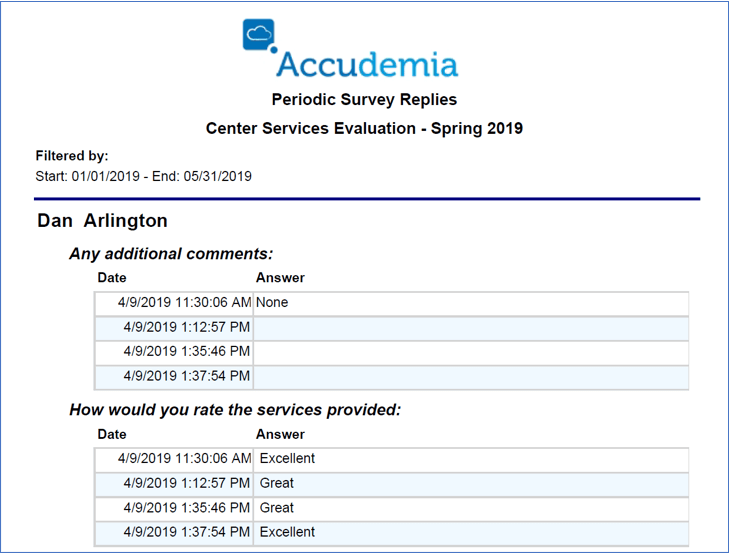 Periodic Survey Results
We've added some new features to our surveys over the past year that have improved their usability, especially for centers still supporting students virtually. With those improvements, it was time to add some survey reports as well. This report allows users to pull responses to surveys for a given period. This came about because we knew users needed to be able to tell quickly who was sent a report and how many of those recipients completed it. Nick pointed out that this report can also be pulled by specific user groups, allowing managers to zoom in on targeted populations.
Survey Completions
Another recently-added survey report, this one shows whether users have completed or not completed a given survey. It will also show the percentage of completed surveys at the top of the report. Note that this will only work for manually -administered one-time surveys, and not for surveys that run periodically.
System Users Permissions
Accudemia is very flexible regarding the permissions you can assign to users, so we've added a report that reflects that flexibility. This report shows the assigned permissions of any given user, allowing managers to quickly ensure that a user's access and permissions are correct. This information is available to view in the system itself. Still by adding it to the reports, the information is now easier to view in multiple formats and can be shared if the manager wishes.
User Roles and Permissions
Similar to the above report, this report shows both a user's assigned roles and their specific permissions. Again, this information was already available to managers within the system, but some users find it easier to retrieve via report.
Permissions by Role Templates
As regular users may know, Accudemia features several default roles, but it also features the ability for managers to design custom roles with whatever permissions they need that particular role to have. This report allows managers to easily check the custom role templates they have created, and which permissions are assigned to those roles.
This report is especially useful for managers who have taken over a center that uses Accudemia, to give them a quick and insightful overview as to the role templates that were created by their predecessor.
Staff with Connect Links
Connect Links are one of the ways that centers offering virtual services can track the use of those services in Accudemia. These links are unique to each tutor or support staff member, so that Accudemia knows which staff members are meeting with which students, and at what times.
This new report gives managers an easy way to view which of their staff have Connect Links set up, and what those URLs are. This allows you to easily pull the Connect Link URLs if you need to, and identify any staff members whose Connect Links are not set up properly.
External Calendar Integration Status
We recently released an update that allows all Accudemia Institutional accounts to access our awesome Outlook integration feature. If you and your staff use Outlook 365 for your calendar system, you can sync the events on your existing calendar with Accudemia's tutor availability. This allows easier management of appointments and schedules. Similar to the above report, this one shows you a list of your staff showing which ones have their calendars successfully integrated with Accudemia.
Attendance Summary Comparison
This report is similar to the already existing, and much beloved, Attendance Summary Report. The key difference is that, as the name implies, users can pull a summary of attendance comparing two different reporting periods of the user's choosing. This was a much-requested report that we hope will give managers additional insight into the traffic of their centers.
Tutor Hours With Tasks
With the recent addition of Tutor Tasks to Accudemia, this report was added to reflect the change. Again, this is similar to an existing report, in this case, this is the Tutor Hours Report. It displays the hours a tutor worked for a given period, but with the addition of any tasks that were selected by the tutor upon sign-in.
Tutor Hours Summary With Tasks
Similar to the above report, this one shows a simple summary of each tutors' hours during a given period, for each task that they have selected.
We are so pleased to be adding to our already long list of reports available to our Accudemia users. In our next blog post, we'll discuss some of the ways our users shared that they already use these and other reports. If you want to stay on top of all the latest Accudemia news, be sure to join us for our Accudemia weekly sessions!
Join us next time!
Engineerica Systems is pleased to present our Tech Tip segment recap for 10/05/2021 for the weekly Accudemia sessions. Held every Tuesday at 1 pm EST, Accudemia clients can join a session to learn about a quick, useful topic from one of our Support Specialists. Each Thursday, we'll follow up Tech Tip Tuesday with a blog recapping that week's topic. If you're an Accudemia client and would like to join us for the next session, just visit https://www.engineerica.com/accudemia-weekly-sessions/.