Email Templates in Accudemia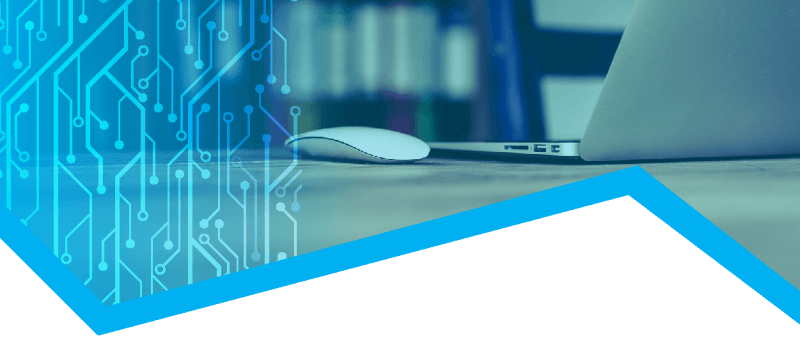 TECH TALK SESSION
By popular request, this week's session focused on Email Templates in Accudemia. These control the wording of automatic emails that are sent from Accudemia. There are many templates available for admins to edit and customize. Our Senior Software Support Representative, Nick Armstrong, went through the different options as well as some tips and tricks that users might not be aware of when updating the email templates.  Plus he went over our recent update to Accudemia where you can now make center-specific email templates without using any complex code and much more!
Available Templates
Most users are aware that Accudemia features templates related to appointments. Accudemia can trigger emails confirming appointments when they are first made, and letting the student and tutor know that an appointment has been rescheduled, canceled, or restored (if the appointment is canceled and reinstated shortly after). Now, with a recent Accudemia update, users can also set up templates for emails to go out when the student misses their appointment. This has been a long-requested feature and we are thrilled to finally be adding it for users to take advantage of if they wish.
We also recently added the ability to send survey reminders and links via email. Before this update, students could only fill out surveys at the sign-in station, but now they can be emailed a link to the survey up to three times at intervals decided by the center admins, with each reminder customizable.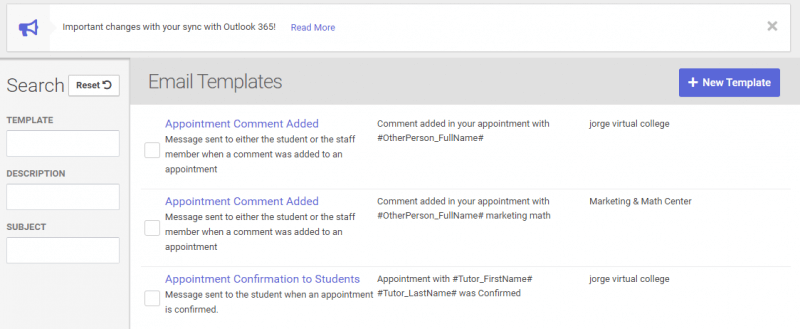 There are several other templates that users may not realize they can customize as well. These include notifications that an account was created (with or without the password, depending on whether Single Sign-on was set up for the account), a password request or reset notification, a shared report notification, and a message received notification for clients using the Accudemia messaging features.
While the email templates for automatic emails can be configured in plaintext only, for ad hoc messages sent from Accudemia, admins can also customize the email footers, using both HTML and plaintext.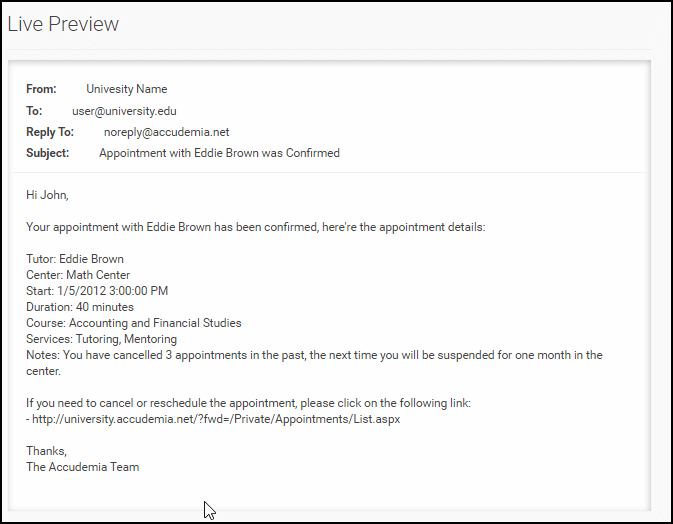 Email Template Content
Nick went on to show the available fields common to most of the email templates. These include the sender name, reply-to address, subject line, and email body. As mentioned above, these templates don't feature HTML, but they do feature key fields (similar to merge fields when creating mail merges in MS Office) that can be inserted to further customize and personalize each message depending on the circumstances. This includes items such as the tutor name, tutor email, or time of the appointment.
Using certain coding, users can also set up templates that contain different messages depending on certain factors. For example, if a center has more than one service students might select from when making an appointment, the wording of the confirmation email can change depending on which service they selected. This feature can also send different messages for virtual or in-person appointments so that students know where to go or how to connect to their session. If the Zoom Integration or Connect Link features are set up for your account, then notifications for virtual meetings can include a "JoinLink" (an Accudemia link that allows the user to join the meeting platform) for tracking that virtual session in Accudemia. Or, if virtual meeting links have not been set up in Accudemia, the tutor can also choose to send their virtual meeting link directly to the student(s) by putting it in the appointment notes. Note: This option is only recommended if you have to use a unique link for every session (MS Teams, Google Meet, etc.).
Nick pointed out that it's important to check the live preview at the bottom of the templates page before saving your template. This allows you to make sure that everything will work correctly. If you see any errors, double-check the code and the key fields. Additionally, using a test student account with your email can help you see what the student can see by scheduling a few test appointments with tutors in your account. This will save you a lot of headaches in the long run.
As you can see, there are a lot you can do with email templates. For more info, take a look at this page of the Accudemia manual, or contact support@accudemia.com. We'll see you at the next Accudemia Weekly Session!
Engineerica Systems is pleased to present our Tech Tip segment recap for 7/20/2021 for the weekly Accudemia sessions. Held every Tuesday at 1 pm EST, Accudemia clients can join a session to learn about a quick, useful topic from one of our Support Specialists. Each Thursday, we'll follow up Tech Tip Tuesday with a blog recapping that week's topic. If you're an Accudemia client and would like to join us for the next session, just visit https://www.engineerica.com/accudemia-weekly-sessions/.