Announcing Zoom Integration with Accudemia
You can now integrate your Zoom Pro, Business, or Educational account with your Accudemia account and improve your center's operations.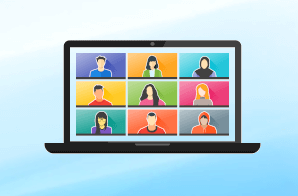 With our new direct and easy integration with Zoom, university staff can now accurately and automatically track attendance times for all online sessions scheduled or accessed through Accudemia and held with college students in Zoom. Whether you utilize the drop-in services or appointment options, we've got you covered!
With this integration, Accudemia can accurately track the virtual Zoom meetings between your staff and students.  This means that you can now track and report on the services of your tutoring, advising, mentoring, counseling, or other type of academic center.  The integration also makes it possible to launch your Zoom meetings with a single click in Accudemia.
One-Click Access to Meetings
Accudemia connects with Zoom to manage meetings right from the software interface. You will be able to create new meetings and register students with just a few clicks. Accudemia then sends the students to the correct Zoom meeting, whether they are coming for drop-in services such as on-demand tutoring or if they have scheduled an appointment with a tutor, advisor, counselor, or other college staff member.
Accurate Data Tracking
Time tracking is what Engineerica does best. Providing online services and meeting virtually with students is not far removed from the familiar interface that staff and students use daily. Because Accudemia logs the session times, staff member, reason for service, and even ties the session logs to the student enrollment, valuable data tracking occurs seamlessly without manual data-entry or spreadsheet compilation at the end of a busy day. Academic support centers can continue tracking which services are utilized by which students to make operational decisions such as adjusting available service hours or staffing as needed. Accudemia provides you with the best way for accurately tracking and optimizing services.
Creates Meetings in a Breeze
Once enabled, this integration removes the steps of switching between platforms and applications. The user-friendly Accudemia interface launches new Zoom meetings with the right settings.
Designed With Safety in Mind
When Accudemia is associated with a Zoom account, read-only access is given for personal information while write permission is limited to meeting information only. Accudemia creates meetings on behalf of the user and updates relevant information by related actions in Accudemia. Zoom accounts can be unlinked at any time.  The integration follows Zoom data-compliance guidelines.
Start using it in your account now >
Please visit https://meet.engineerica.com for more information.