Conference Badge Solution
Generate your conference badge in minutes with Conference Tracker.
Start with our easy-to-use badge designer. Pick from several templates and customize your favorite. Add stored attendee information like name, job title, company, or even your own custom fields. Finish by adding your conference logo.
The next step is to print out your beautiful badge. You can use readily available badge template paper and your own office printer, or you can use one of the supported specialized one-off badge printers, such as the very economical Dymo badge printer. Or you can send a file containing your badges to professional printer.
You can select all the badges for printing, new badges, a certain group of attendee badges, or a specific person's badge.  You can always reprint a lost badge on site.
Not only can you generate your attendee badges, but with Conference tracker you can generate:
Presenter Badges
Exhibitor Badges
Event Staff Badges
VIP Badges
Badges for other roles
Feel free to create different designs or apply differing colors per badge type to distinguish it from other badges.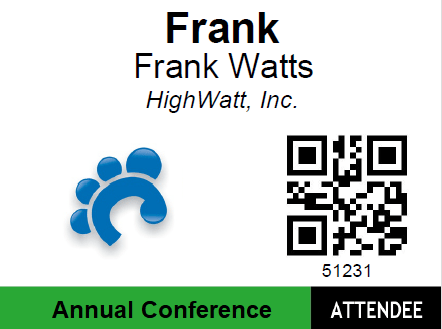 Even more amazing is Conference Tracker's ability to email badges to each attendee prior to the conference with the click of a button. You can invite attendees to print their own badges at home to save on check-in time, send them a draft so any spelling errors can be corrected ahead of time, or use the Conference Attendee app for electronic rather than printed than printed.
Another option in Conference Tracker will allow you to set up a self-check-in station for attendees so they can print their own badges.  This speeds up check-in processes for the attendees and frees up your event staff for other important tasks.
For a complimentary demo of Conference Tracker, click here.