Conference Leads® – Ordering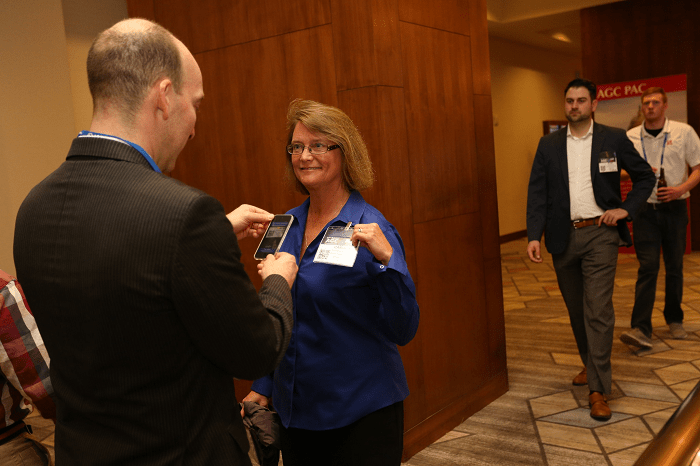 How Does The Lead Retrieval System Work?
To use Conference Leads, the conference organizer needs to set up the system to allow exhibitors to capture the leads via a mobile app.  The contact information of the captured leads will be coming directly from the conference registration database, which means exhibitors will get the latest and most accurate contact information.
---
How Much Does it Cost?
There is no fee to the conference organizer for offering Conference Leads to their exhibitors.
Avoid hardware leasing costs and hassles.  Exhibitors can use their own Android smart phone or tablet, or they can use their Apple iPhone, iPad, or iPod touch.  There is no need to lease outdated barcode scanners.
Exhibitors pay a small fee for using Conference Leads at a particular conference.  The fee ranges between $169 to $249 for the first sales representative and $119 to $149 for each additional representative from the same company.  The fee includes the use of the Conference Leads app on a single device, the ability to create own customized set of qualifying questions (no limit on how many questions each exhibitor sets up), the ability to view the leads via cloud account, Conference Leads Analytics reports, and the ability to export all leads to an Excel, html, or CSV file for easy upload into any database.
---
How Long do I Have?
The exhibitor's access to the leads retrieval cloud account starts on the day their account is openedand and will last until 30 days after the conference.  The exhibitor can export out their leads at any time via the app or by logging in to their cloud account.  Scanning badges is enabled during the conference.  Each Conference Leads order is good for the associated conference only.  Future conferences require their own license.
---
How Do I Get It?
To use Conference Leads at your conference, contact us or fill out the online form here.
---
Terms of Service
Click here to view the Conference Leads terms of service.
Click here to view our Privacy Policy.
---
* Photo courtesy of AGC of America