Rochester College – Case Study

At Rochester College, we use Accudemia software to track students' visits to and usage of Academic Center for Excellent (ACE) Lab services.  Since the ACE Lab offers various services such as tutoring, online writing, exam proctoring, and supplemental instruction, our peer tutors and staff need an internet-based tracking.  It allows us to have access to our session logs anywhere, and anytime.  As we use this software, we notice positive differences through the accessible sign-in station, the valuable reports, and the supportive customer-services.
ACCESSIBLE SIGN-IN STATION
Last summer, the ACE Lab used the old fashioned "paper and pen" sign-in sheets to track down our tutoring sessions, session logs, and students' visits.  This process involved so many papers, and unreadable handwriting.  Some of our student-athletes did not take this method seriously so they sometimes skipped the whole process; additionally, students forgot to write down times when they left the ACE Lab.  As a result, we could not give an accurate report for visiting hours at the end of semester.  This method did not work well with the ACE Lab and its various services.
In June, our director decided to start using Accudemia for the fall semester.  Now our students can swipe their students' cards and select services, courses, and tutors in the designated sign-in station.  This process takes less time than writing down their name and other information.  This software is user friendly; and I rarely give assistance to students when they sign.  As a result, I can do other tasks as students are signing in to our Lab.  What an effective software!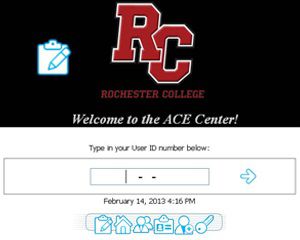 I have also designated our peer-tutors' laptops as sign-in computers.  When they hold supplemental instruction (S.I) sessions around the RC campus, they can sign themselves in without coming to the ACE Lab.  They also have the ability to manually sign students in and out for students who attend their S.I. sessions.  This is an effective feature for our Lab especially since we have a variety functions.
VALUABLE REPORTS
Since the ACE Lab offers several services, it is important to measure its effectiveness throughout the semester.  Accudemia provides built-in reports with a variety options and purposes.  At first, we were overwhelmed with how many reports we could produce.  More reports were available than what we were required.  As a result, we now only generate reports related to the ACE Lab daily hourly visits, tutoring subjects, and service hours.  These reports enable us to identify some important aspects of the tutoring lab: our busiest day, our most needed subjects for tutoring, and our total count for other services.  As a result, we can discover what subjects need tutors the most and schedule them based on our daily visit report.
On a biweekly basis, the ACE Lab staff sends out reports to academic advisors consisting of ACE Lab hours for students who are on academic alert, warning, and probation.  This report keeps track of whether students are making efforts to improve their grades.  At the same time, RC Athletic coordinator independently prints out student-athletes' study hours in the ACE Lab.  In the past, we provided this report, but with our Accudemia built-in reports, it is unnecessary to do so.
An academic advisor occasionally requests the ACE Lab to provide a detailed session log for students on probation.  Our staff can easily print this out within minutes.  This report includes date, time, services, tutors and session logs.  We are so thrilled with the ease of retrieving information with this software.
SUPPORTIVE CUSTOMER SERVICE
Since the ACE Lab is surrounded with technology, it is necessary for us to deal with technology problems.  The Accudemia support team has walked our Lab through solving any Accudemia-related problems that occur.  Every question we have is never left hanging, but it is always handled by the Accudemia team.  Their email replies are user-friendly and very thorough.  If their first initial email solution does not work, they will find other solutions until it is fixed.  If a certain feature is not generated in the program, our Lab posts suggestions in "Accudemia Feedback."  Then, other users from different schools have options to cast their votes for our posts or other user votes.  The more votes a suggestion gets, the more likely it is that Accudemia will select to adopt that suggestion.  We cannot say enough how excellent their customer services are.  Because of their work, the ACE Lab is able to provide better customer services to Rochester College students.
Accudemia has proven to be an effective software, and Rochester College's ACE Lab is enjoying the benefits of this tracking system.
Phebe Dollan
ACE Assistant
Rochester College
Rochester Hills, MI