How Post-Pandemic Events have the Opportunity to be Spectacular
Are you happy we are almost past this pandemic and can begin hosting in-person events again? Well, I sure am. I know it has been tough managing events lately, but I know post-pandemic events will have the opportunity to be spectacular! Whether you are ready to go back to in-person events or if you have a hybrid or virtual event in the works, I believe Conference Tracker can help make it everything you want.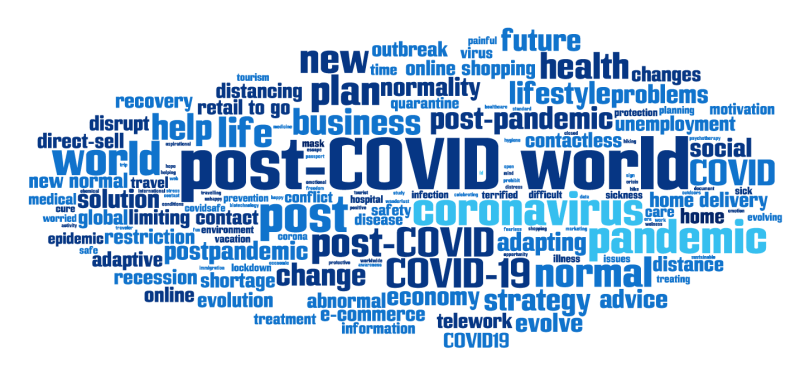 During the pandemic, we found that many individuals who usually lack the resources to attend any events in-person were able to participate online for the first time. Even face-to-face events can be enhanced by adding online options to broaden networking opportunities. With Conference Tracker's latest features, you can engage more attendees. By utilizing virtual and hybrid capabilities, as well as Conference Tracker's new streamlined design, you can create the best events.
Streaming
If an attendee or exhibitor cannot make the event, no problem! You are now able to stream your event your way. You can use a live broadcast of your in-person event, or pre-recorded videos to stream your event. Integrating with many platforms such as Zoom, StreamYard, Youtube, Vimeo, Facebook Live, Cisco Webex, and OBS Studio, you have many options for streaming your event. In addition to utilizing the exciting streaming features, you can incorporate the new immersive desktop portal that events attendees access from their home or office.
While using the vibrant desktop portal, attendees' engagement level will be significantly increased by having the ability to view online sessions, chat with other attendees, fill out surveys, take quizzes, see their attendance records, visit virtual exhibits, and more from their computer or laptop. They can also choose between this and joining the event through the Conference Attendee mobile app.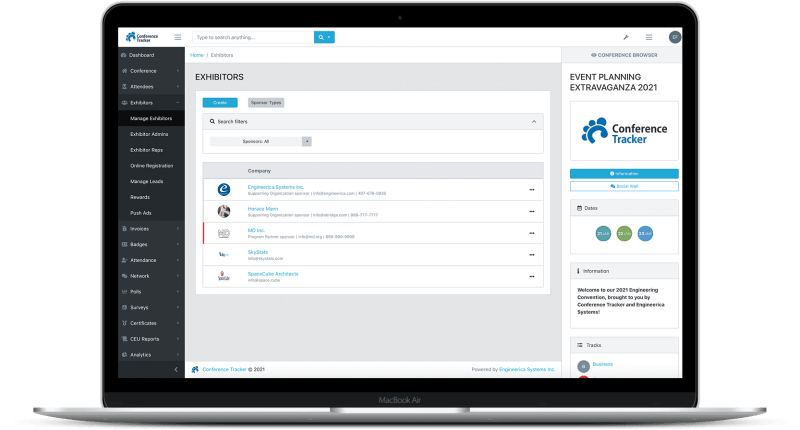 Virtual Exhibit Hall
The newly included Virtual Exhibit Hall presents a huge opportunity to enhance your post-pandemic event. While attendees at the event can meet the exhibitors, they can also view the Virtual Exhibit Hall to see the displays they might have missed on the show floor, meet additional exhibitors that could not attend the event in person, or even gain more information about those exhibitors they met and visited with. This will help increase attendee engagement and broaden networking opportunities. Conference Tracker also has a totally redesigned Exhibitor Virtual Booth that will enhance the exhibitor's ability to gain exposure and leads.
Ad Control Center
Another awesome feature Conference Tracker has is the all-new Ad Control Center. This will enhance your conference by allowing admins to now add sponsors' video ads and determine when they appear. You can set these ads to play before an attendee watches a stream or video. Each session could be sponsored, which will give you more revenue from presenting these videos!
Making the Conference your own, and accessing all these features are now simpler with an easy new buying process, which will allow your post-pandemic events to operate even smoother. You can now create, customize, and purchase your Conference Tracker account online through the new agentless registration process at conftrac.com. You can even select the features you need from our available packages, including all the new ones mentioned above! As always, if you would prefer to speak to an agent, schedule a demo and we will be happy to answer all of your questions.
If you would like to read additional information on hybrid events, or how to have your event match your business goals, be sure to view The Value of Hybrid Events, and The Event that Perfectly Matches Your Business Goals blog posts.
Learn more about how Conference Tracker can help you achieve amazing post-pandemic events by connecting with one of our specialists today!