Conference Management Tools Update
Engineerica Releases New Version of its Conference Management Tools

Engineerica Systems Inc. is thrilled to announce a major new release of Conference Tracker and its Conference Attendee and Conference Leads apps. This cloud-based software suite is designed to help conference and event planners in the time-intensive and sometimes complex work of organizing and managing a conference. In addition to handling the conference registration, badging, check in, and attendance tracking, the suite offers an attendee app with an electronic conference guide and social network.  It also offers an exhibitor lead retrieval app to help exhibitors collect and organize their leads.
This latest release of the conference management suite includes numerous new features and improvements designed to enhance the user's experience. Here are the highlights of the improvements in this release:
Conference Tracker Software Improvements
Registration Discounts Code: Offer online registration discount coupon to both attendees and exhibitors.
Picture Gallery: Project conference photos from the social app on your wall.
Multi-Badge Design: Useful in identifying registration status. For example, you can have a different badge design for attendees who have an Expo pass but no session access.
Email Log: Allows you to track outgoing messages including automated emails, attendance certificates, etc.
Linking to Past Conferences: Allows you to copy the online registration form, badge design, certificates, CEU report, and admins from a past conference.
Other Improvements: These include enhancements to the online registration form, Email Broadcast tool, Badge Designer, and more!
Attendee App Improvements
The attendee app enhances your attendees' experience by offering them an online conference guide, exhibit guide, social network, session ratings, personal notes, and more! The latest u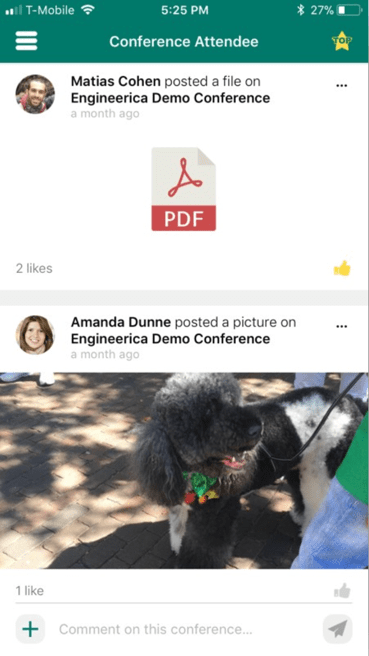 pdate offers many improvements including:
Quick and Easy Sign-in: Conference attendees will get an automated email message with a link that attendees can click to download and sign in to the app without needing to type a sign-in ID and password.
New App Analytics: You can now get app insight for sessions, exhibitors and sponsors including # of times viewed and # of times bookmarked.
Enhanced conference social network. This includes post flagging and moderation.
Other improvements including "Popular Now" view of social posts, automatic reminders for bookmarked and registered sessions, easier photo update, and cross linking to session info, speakers and attendees.
Leads App Improvements
The exhibitor lead retrieval app, Conference Leads, was updated with the following:
New simplified sign-in option via email link. With the click of a button, the system will send all registered sales reps an email message with a link that allows them to download and sign in to the Conference Leads app.
Display of attendees' photos uploaded via the Attendee app. Exhibitor can also take the photo if they like.
Ability to turn on/off the custom qualifier questions from the app.
New 'Conference Information' screen.
New Conference Leads Report that shows the Conference Leads app sales.
Many other improvements including enhanced user interface.
The attendee app and the leads retrieval app are available for both the Apple iOS and Android devices.