If You Thought You Knew Conference Tracker,… Think Again!

Recent updates to Conference Tracker have made it better than ever and ready for you.
---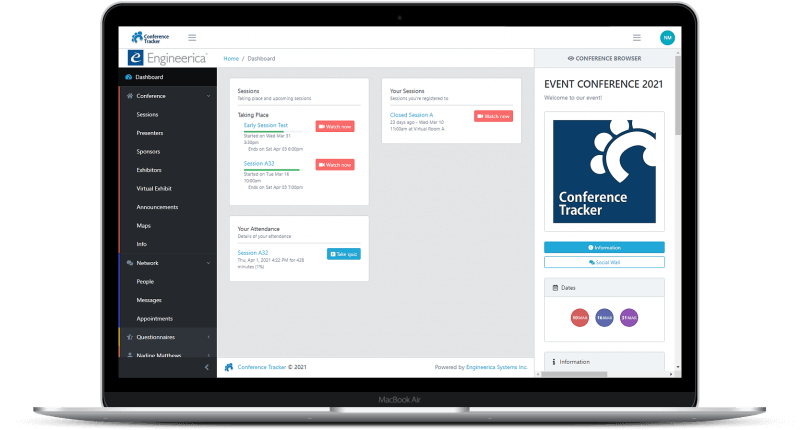 Engaging Attendee Web Portal
Your event attendees will have access to an immersive desktop portal where they can view online sessions, chat with other attendees, fill out surveys, take quizzes, see their attendance records, visit virtual exhibits, and more from their computer or laptop. They can choose between this and viewing the event through the Conference Attendee mobile app.
---
Valuable Exhibitor Features
Conference Tracker's redesigned Exhibit Hall gives your exhibitors better exposure and shows them who visited their virtual booth. We are also working on a totally redesigned Exhibitor Virtual Booth that gives exhibitors maximum exposure and leads. Stay tuned for the details.
---
Easy New Buying Process
You can create, customize, and purchase your Conference Tracker account online through the new agentless registration process at conftrac.com. Select the features you need from our available packages, enter your information, and begin setting up your event right away.
Of course, if you prefer to speak to an agent, reach out to us at info@engineerica.com or 407-366-7700 and we will be happy to answer any of your questions or provide product demonstrations. 
---
New Upgrading Process
You can now upgrade your account right from inside the Conference Tracker dashboard. Simply click on the user profile button on the top right-hand corner and select "Manage License".  Browse the options and select the package that best accommodates your event needs.  
---
Check out these other enhancements:
Simple Quiz Builder  - Create quizzes for your sessions to test for comprehension. Passing these can be required for awarding continuing education credit for the session.
Automatic Attendance Tracking for Online Sessions - Conference Tracker is keeping track of when attendees begin watching sessions and when they leave with more precision. The attendance info can be used for credit calculations.
"Are you still there?" - Worried the attendee started the virtual session then left?  You can enable this prompt to pop up when an attendee is watching an online session and the portal remains idle. The attendee will have a short timeframe to confirm that they are still paying attention to remain in the session.
Get Recordings of Streams - Not only can you stream your live sessions to Conference Tracker, but you can also download a recording of the session from Conference Tracker in a pinch. This is handy if you want to keep a copy of your live sessions for your reference.
New Ad Control Center - Admins can now add sponsors' video ads and determine when they appear. Set these ads to play before an attendee can watch a stream or video. Each session can be sponsored, giving you more revenue streams.
Modern Certificate and Badge Designs - Conference Tracker badge and certificate template options have had a facelift. Check out the new cool designs!
---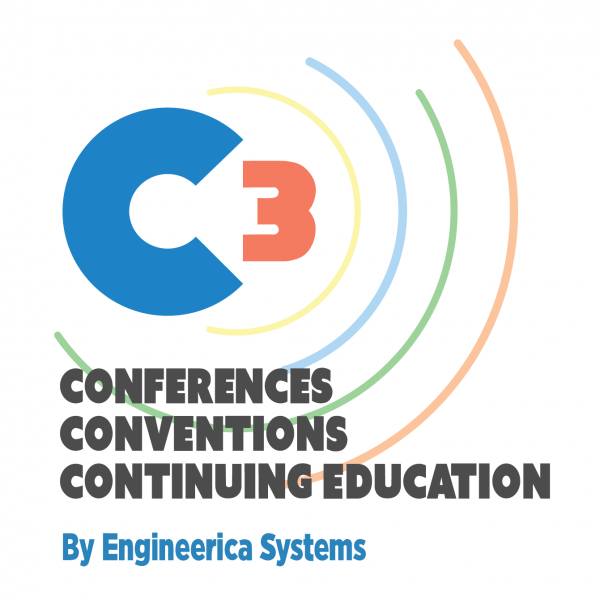 Need More Sponsors?
We recently interviewed one of Conference Tracker users to learn how they marketed and won sponsors for their virtual event, and how they promoted and showcased these sponsors.
Listen to the 15-minute interview here.
---
So Many New Things!
The Conference Tracker team is actively enhancing and updating Conference Tracker to meet your needs. Now you can see a record of these changes in our Conference Tracker changelog.