5 Ways to Use Technology for Event Social Distancing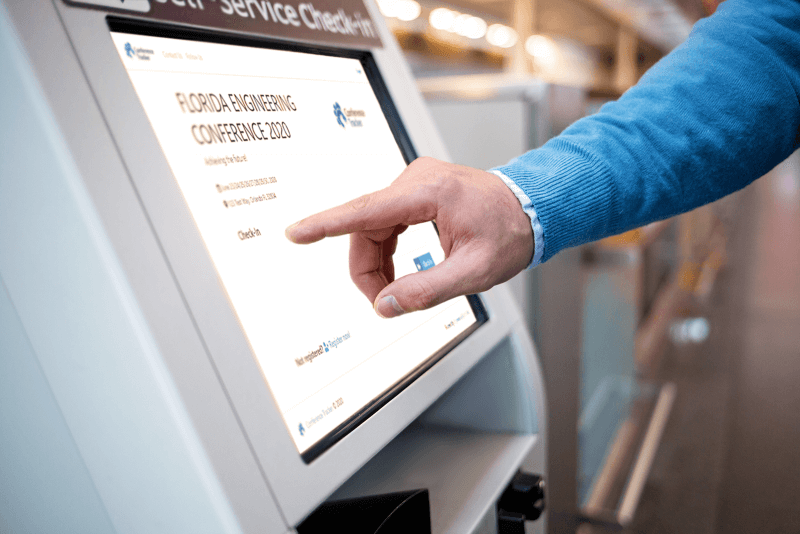 Our country is slowly but surely starting to reopen. The event community is hopeful that meetings and conferences will follow. However, we want to ensure that social distancing measures recommended by the CDC and our local government are followed. Here are 5 ways to use the Conference Tracker, which is an event technology tool, for social distancing and increased safely during meetings.
(1) Unmanned Check-In Stations
You can set up a self-check-in station using a computer kiosk for your attendees to check-in, register onsite, and even print their event badges. The setup of these stations is simple and our team can train and assist with this process. You can set up sanitizing stations beside your kiosks or simply add a bottle of sanitizer for those concerned about touching surfaces.
(2) Digital Badges
Paper Badges are no longer necessary in the social distanced event format. You can now have your digital badge complete with a QR code for attendance tracking purposes within the conference attendee app.
(3) Digitize Attendance Tracking/Credit Tracking
With Conference Tracker you have a couple of options to capture attendance data while keeping social distancing:
The first option is to set up a device (tablet on a stand) at the entrance of each of your break-out rooms. These devices will enable your attendees to scan their badges and sign in to the session. This will not only track their attendance and calculate their attendance credit hours but it will also eliminate the need to pass sign-in sheets from one person to the next.
The second option is to have your attendees self-scan using their own mobile devices.  Simply display the QR code generated by Conference Tracker using the projector, or by placing a hard copy at an accessible area, and have your attendees scan this QR code to sign in and out of each session.
(4) Digital Communication
With the use of our conference app, you can support networking while keeping social distancing measures. Your attendees can engage in private or public conversations with each other via their event engagement app. They can also engage exhibitors, sponsors, and even the conference organizers. This provides an easy and safe method of networking and communication. Digital voting, evaluations, or polls can also be sent out via the conference app.
(5) Digital Lead Retrieval
You can have an iPad stand at each exhibit booth where attendees can quickly scan their digital or paper badges to opt-in for more information on an exhibitor's offering. Your exhibitors will instantly have access to the attendee's contact information and they will be able to communicate with their leads via our digital lead retrieval service. Exhibitors can even use this digital lead retrieval service to conduct random drawings for prizes or send polls to their digitally collected leads.  The attendee app also allows attendees to contact exhibitors directly from a safe distance.
The above are examples of how you can use technology to maintain social distancing at your next live event.  If you are still not comfortable with having a live event, you can use Conference Tracker to conduct a fully virtually event, eliminating any possible safety concerns.
Have other ideas on this topic?  Please share them with us in the comments section below.