The Effect of the Pandemic on Higher Education: Student POV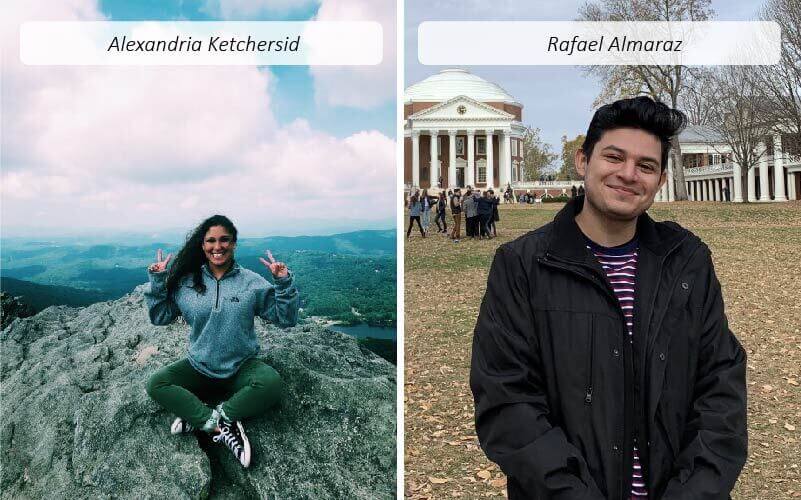 The outbreak of the coronavirus caused a major disruption to colleges and universities across the country and forced institutions to move from in-person classes to online or hybrid instruction. The COVID-19 pandemic also disrupted the lives of higher education students and affected their physical and mental well-being in profound ways. Uncertainty, instability, and self-doubt have been common themes in the lives of college students during 2020 as their education and career plans shifted due to the pandemic. 
In this article we reveal the real-world experiences of a couple of students from the University of South Florida in Tampa: Alexandria Ketchersid and Rafael Almaraz. They are both enrolled full-time at the university and taking strictly online classes. This is their story:
1. What do you believe to be some pros and cons of virtual learning? 
Lexi: As a virtual student, I thoroughly enjoy the freedoms which are associated with learning from home. Such as the ability to wear pajamas or even study in an environment of my choosing. I also love the flexibility regarding my class schedule. However, it can be quite difficult to form relationships with my peers and professors through virtual learning. I just really enjoyed the ability to walk around campus every day so I can interact with my peers; I miss that as well.
Rafael: The biggest benefits are flexible scheduling, safety from exposure to COVID-19, and less intensity than face-to-face presence in a classroom. But there is a trend of reduced communication from professors; the lecture options may vary by professor but are very limited, and learning is primarily composed of following the syllabus, reading textbooks, and taking quizzes with little additional input from the professor.
2. How has the COVID-19 pandemic affected your academic achievement this semester or over the past couple of months?
Lexi: My academic achievement has thankfully remained the same. However, I have noticed that I often struggle with a lack of motivation to complete work more so than before. Before COVID-19, I was extremely motivated and typically completed assignments well before the due date. Now, I have become quite the procrastinator which can create unnecessary stress for myself.
Rafael: The COVID-19 pandemic has reduced morale and motivation to keep up with the courses that are already lack-luster, to begin with. Grades have not necessarily suffered as the structure is not difficult to follow, but I would avoid taking online courses if possible for next semester.
3. Do you feel like the quality of your education has improved, worsened, or remained the same during the transition to virtual/hybrid learning during this pandemic? 
Lexi: Quite honestly, the quality of my education has worsened. Unfortunately, out of my four courses only one professor posts lecture material. As a result, I am forced to read incredibly large amounts of textbook material which can be extremely boring and stressful. I miss the discussion among my peers and professors. I used to really enjoy my academic work and now there are days where I completely dread it.
Rafael: I would argue the quality of my education has worsened as deep explanations that go further than the textbook in real lectures have become a luxury in my class lineup. Being full time with five courses, only one has live lectures that go over the assignments and text. Compared to spring or fall of last year, I would have all my classes with very involved professors regarding class lectures. While others may not learn as well through lectures, I find that I retain information best when it is explained and dissected explicitly. This semester has led to my courses being self-taught while tuition remains the same.
4. Are there any services or programs your school has implemented recently to help students like you achieve their academic goals in these times? If so, what are they and how have they helped?
Lexi: I am sure there are several services and programs that my school has implemented to help students achieve their academic goals but honestly I am so frustrated by this entire semester that I have yet to do any research on it. 
Rafael: The university and its various organizations have added live virtual presentations to inform and answer questions for students who may not be on campus and whose questions may not be ideal for an advisor. I have not used these resources as often they are directed by upperclassmen and tend to be repetitive in my experience. While not helpful to me, I do believe they would be helpful to a first-year student.
5. Are there any suggestions you would like to make to the administrators of the school that you think would be beneficial to your overall learning experience during these times?
Lexi: I would like to suggest all professors be required to upload some form of lecture material at least once a week. As a student who is currently forced to learn virtually, it is incredibly frustrating that I pay thousands of dollars for an education that I am teaching myself.  
Rafael: There are no general suggestions I can offer to improve the current systems of learning as everyone learns differently. Leaving the class design to the professors is what is currently occurring and I believe that is best even if it, unfortunately, leads to a class led only by a syllabus.
As a student who is currently forced to learn virtually, it is incredibly frustrating that I pay thousands of dollars for an education that I am teaching myself.
Conclusion
The unfortunate recurring theme in these students' academic experience seems to be the lack of their motivation and lack of communication from instructors that made them feel they need to learn the class material on their own after carrying the financial burden of their education. One way to address that is by offering a better collaborative learning environment where students feel heard and able to communicate better with their instructors and classmates. Another tip would be to effectively encourage students to reach out to advisors who have the resources to help motivate and lift the burden of learning on their own during these difficult times. By utilizing methods like these, we can help maintain the quality of education our students deserve.
Our thanks to Alexandria and Rafael for sharing their experience with us. If you have any additional suggestions to help students achieve academic success during a pandemic, please leave them in the comments below. Thank you.