Improving the Production Quality of Your Online Lectures
Having to move in-person courses online takes a lot of work, I am sure every instructor is well aware of that by now. Many of these classes were never intended to be taught online and a lot of instructors have never had to learn the tools and teaching methods for effective online instruction. As an adjunct instructor myself, I wanted to share with other educators ways you can improve your online lectures, make them more engaging, and entertaining for the students. 
A quick preface before we dive in: many of these suggestions will require either purchasing new technology (if you don't already have these items) or learning some additional software. If you are already inundated with new information by this transition to online I am not suggesting you add this to your workload. Online lectures can be effectively taught by just recording your screen and using a microphone. If you have access to this technology and are interested in improving the overall fidelity of your online lectures this post will help you do just that!
The first thing I always like to tackle first is audio quality. There are very few computers that have high-quality mics built into them. I find that listening to low-quality audio makes it harder to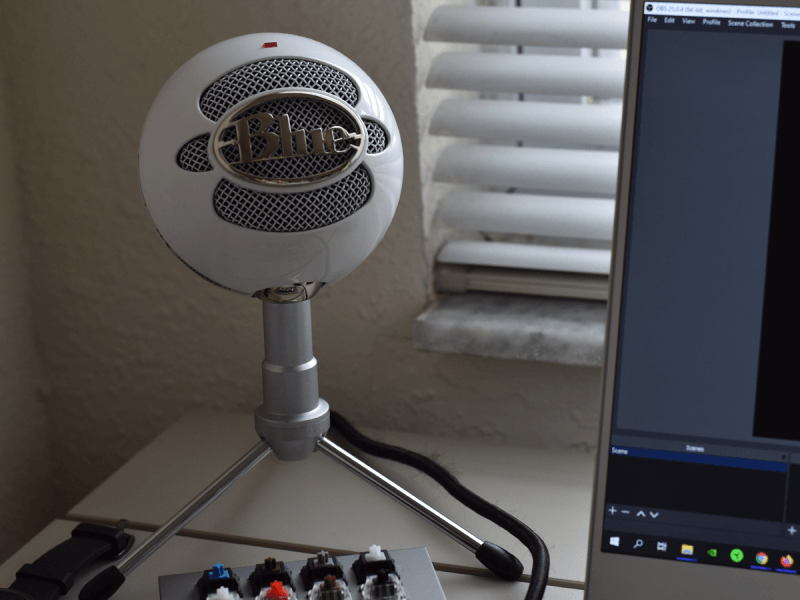 stay focused on the subject and overall, pretty mentally fatiguing. Using a dedicated microphone for your audio recordings will immediately improve your online lectures. Even using a headset microphone is a huge improvement from a lot of the built-in mics found in laptops. If you are looking to get professional sound quality you can use a microphone like the Yeti mic by Blue or the more budget-friendly Snowball. I personally use the Snowball microphone and I am very pleased with the quality of audio it produces. 
My next recommendation is a software that makes recording yourself and your screen simple and easy. If you are not familiar with OBS, I highly recommend you give it a try (obsproject.com). OBS uses scenes to organize sources of input and allows you to export what is captured as either a video file or as a live stream to various streaming platforms such as Youtube, Facebook, and Twitch. OBS can simultaneously capture your audio source, video source, and any applications you have open on your computer. Below is a quick example of a recording using OBS, notice how you can jump between scenes to view different windows.
Lastly is video quality. Video quality may be the least essential for online lectures, but it can really help keep students engaged and you can have some fun with it too! If you are looking to improve the video of your lectures and have access to a DSLR camera there is a lot you can do. There are a couple of different ways you can accomplish this: 
SparkoCam

software lets you set up your DSLR as a webcam by just connecting it to your computer via USB. The list of supported cameras can be found via their website.

Elgato Cam Link

is a good option if your camera is not supported on SparkoCam.  Cam Link can capture any HDMI

HDMI input, so all you need is a camera that supports HDMI out. However, there are a few things to keep in mind when going this route. Even though your camera might support HDMI output, you will want to make sure that your camera has the performance required to support the demands of streaming. We also recommend picking up a power adapter kit similar to this

one

for Nikon cameras so that you can power your camera throughout your stream.
We hope these tips will help you improve the quality of your recordings.  If you have any questions or comments, please share them below.