Online Training Should Be Engaging to Be Effective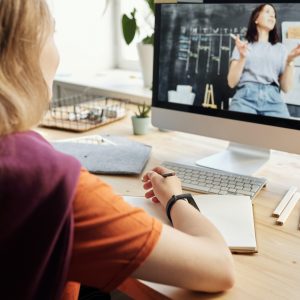 Distance learning is older than most people think – okay, our current technology (like the internet) is relatively new but the concept is over 170 years old. In Great Britain, instructors sent lessons and received assignments by mail as early as the 1800s. While the distance-learning concept remains, online teaching solved the main hurdle of sharing information quicker. Transit time evolved from a few days or weeks to almost instantaneous. Students can now not only interact with teachers in real-time but also with other students; however, some drawbacks exist, such as how to keep your audience engaged while sitting in front of a computer screen.
Preparation is key.
Even before transmitting the first click of the mouse, you need to advertise your course the right way; use all the tools in the toolbox from email campaigns to posting an entry on the school website, or even sending an SMS text message to the students. Everything you can do to promote your class works! Remember students are at home, enticed by online games and YouTube; they need to feel they have a duty and a goal of engaging with their classes even through a screen. They will need clear expectations of exactly what the subject will be. Additionally, you'll want to make sure to explain how important this will be for their overall success.
Be a Master multimedia creator.
If you were planning to show a barrage of pages or presentation slides full of words in Arial - 12 point font for 45 minutes – please stop! Today's online teaching needs to include a combination of pictures, videos, messages, boards, and INTERACTION. It does not matter whether this interaction is via online chat, discussion boards, video conferencing, polls or quizzes. Add any of these that will make the course more inviting. Do not be too serious. Yes, teaching is a serious business, yet, you have to take into consideration the needs of the person behind the screen. Deliver content in ways that make the student an active participant instead of a passive audience member. If you fail to do this, you risk having them tire, become distracted, or burn out staring at the screen.
Make them accountable.
Making sure students are participating and providing feedback on the content, you provide guarantees they won't get off track with their assessments. It can be difficult for students to stay motivated, but there are ways to make online schooling more enjoyable. It's up to educators to be creative and use the arsenal of options to track and help students succeed in an online world.
Share your ideas for making online instruction more engaging in the comments below.