Which Live Streaming Platform is Right for my Event?
With our current event landscape changing to a virtual environment, we have a new choice to consider: which online platform is the right for me? There are so many different solutions available to us for each of our specific needs that it could get difficult to narrow down which one is the best to use for your situation. One of the most popular options for virtual conferences is creating a live video stream. These can usually be scheduled ahead of time and, depending on which platform you use, can be fully customized. Here are a few platforms that allow you to create a live video stream:
FACEBOOK


A popular feature of Facebook is its live-streaming capabilities. With a few simple clicks, you can use your personal Facebook account to create a live stream of either your desktop monitor or a webcam.
Advantages:
You can create a live stream by share either your webcam or your computer's screen without any additional software
While not required to begin a live stream, Facebook does have support for additional streaming software.
Disadvantages:
You will require a Facebook account to stream. This can present some privacy challenges.
YOUTUBE



YouTube also allows you to create a live stream within a few simple clicks. All you are required to have is a YouTube account and a webcam.
Advantages:
YouTube provides a very quick solution to creating a live video stream with only your webcam.
While not required to begin a live stream, YouTube does have support for additional streaming software.
Disadvantages:
Without the use of additional software, you are only allowed to stream your webcam.
A YouTube account is required, which includes verification of an email address and a phone number.
TWITCH.TV

Twitch.tv started as a video game-focused website but has evolved into a live video streaming powerhouse. While setting up a live stream with Twitch might be more intricate than YouTube or Facebook, you will be able to get the most out of your streams with this platform.
Advantages:
Twitch will produce the best quality out of all the streaming services for your live video.
Easy account creation that can be used specifically for your presentations
Disadvantages:
Requires additional software to begin streaming.
To a first-time visitor, Twitch.tv might be misconstrued as a service catered towards gaming and technology.
OBS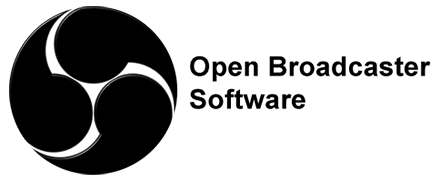 You may be wondering, "What is this additional software that keeps being mentioned?" This refers to a separate program you can choose to download that will help you maximize the quality of your live streaming. You can add and organize multiple sources, such as images, PowerPoint presentations, webcam video, all in the same stream to give your attendees the best live video stream possible. One highly recommended software to get you started with this would be OBS (Open Broadcaster Software). Found at OBSProject.com, it is a free to use program that can connect to all three of the previously mentioned live streaming platforms and help you set up your live stream to your exact specifications.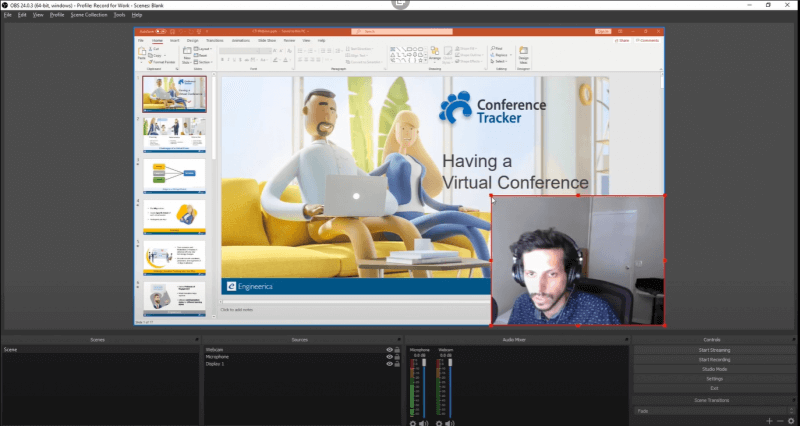 Advantages:
Once OBS has been set up, it will be the quickest way to begin streaming and controlling your entire stream without needing to go back and forth between websites. All streaming will be handled through OBS.
You can add multiple sources to one live stream. For example, you can have half of your screen showing your PowerPoint presentation, and the other half show your webcam feed.
OBS can also be used to record your presentation while it is streaming, allowing you to upload your video to any platform you choose once it is finished.
OBS has amazing integration with Twitch.tv.
Disadvantages:
As previously mentioned, OBS is a separate program you must download and set up to your specifications. There are a lot of great guides both on their help page and on YouTube for how to use the software.
While not a requirement, having a second monitor hooked up to your computer will greatly enhance your usage of OBS.
No matter which one of these options you choose to transport your event into a virtual landscape, Conference Tracker will allow you to insert each of these platforms into our software. Our software will ensure that not only is this data easily available to all of your attendees, but their attendance will be accurately tracked as well.