Rescue Your Event During COVID-19
-VIRTUALLY GENERATE REVENUE, CREATE SPONSORSHIPS, OFFER CREDIT TRACKING/REPORTING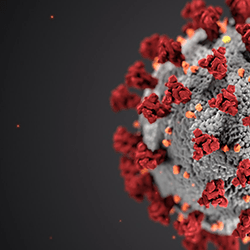 Everything is in a state of disarray; everyone is panicking. We are moving past initial shock and hysteria and have begun our journey into a state of resolute resilience. The essence of our livelihood is based on contact, community, and togetherness. Yet, contact is discouraged. COVID-19 is here, and our events/meetings community is taking a hard hit. Nevertheless, together we are strong because the basis of who we are is rooted in community. We have been through hardships before and we know that we can get through anything together, so we begin brainstorming and executing methods to cope.
During mass cancellations and quarantines, you are strongly considering all aspects of your event. You weigh whether you should consider the ultimate precaution to cancel or postpone your event. You also consider the possibility of moving to a hybrid event (virtual and in-person) or whether you should switch to a completely virtual event. Whatever you decide, your decision will affect our community and the integrity of our ecosystem. Whether you are a supplier, meeting planner, or attendee, meetings and events are our life; it is how we network, how we provide for ourselves, and our clients.
You have decided to press on; you have decided to reduce the impact on the industry and move into a hybrid or virtual event model. But what about your sponsors/exhibitors? Sponsorships are a huge revenue generator for both the supplier and the conference organizer. How do you keep sponsorships available?
Let's consider this. A virtual/hybrid event that still allows for networking, sponsorships, exhibitor/attendee interaction, attendance tracking, credit tracking with automated calculation, and real-time analytics and reports. It can be done!
How? Let's talk technology! My favorite topic is leveraging technology to solve problems. This is what the company I work for specializes in and we are ready and available to lessen the economic impact on our industry during COVID-19.
Engineerica has partnered with a fellow Orlando technology vendor to provide a comprehensive, innovative, and integrated solution for your virtual/hybrid events. Our solution will not only include live/prerecorded video streaming, but will also provide solutions for marketing, registration, attendance tracking, CE tracking, automated CE reporting, comprehensive analytics, sponsorship opportunities, and networking opportunities for your attendees and exhibitors/sponsors.
Generating Revenue
The first method you will use to generate revenue through our platform is through our extensive marketing tools. Some of these tools include email broadcasts to your anticipated attendee list and a landing page that will be viewed by millions of prospective attendees.
Another method to generate revenue through our platform is through your virtual attendee registrations. This methodology can be compared to traditional revenue generation through attendee registration numbers. Regardless of whether you elect to host a virtual event or a hybrid event, registrations can still be offered at a select price. You do not need your attendees to be present at your physical event in order to charge for attendance.
Finally, you can generate revenue through sponsorships. Let digital sponsorships replace your physical brick and mortar sponsorship options. You can reach your entire attendee base, whether virtual or in-person, through the attendee app. Some of the interactive sponsorships available through our platform includes click ads, push notifications, and rotating banners.  Digital sponsorships provide the greatest level of exposure and allow exhibitors/sponsors to expand their reach through virtual means. Sponsors will have the ability to become visible to all attendees, no longer are they limited to the select group of attendees who decide to stop by their booth in a physical event model. Digital sponsorships are currently selling for thousands of dollars at physical events. With our proposed virtual/hybrid event model, these sponsorships will become even more valuable.
Credit/Attendance Tracking and Reporting
You may think that offering credit tracking and attendance tracking would not be possible with a virtual event; however, we have been working on attendance tracking automation for over 25 years. If there is anyone ready to solve this problem, it's Engineerica. Our in-house engineers have come up with a solution to automatically track attendance and continued education through our platform. This solution will not only automatically track attendance virtually, but it will also provide automatically generated certificates and reports for your attendees after the event has been completed.
Networking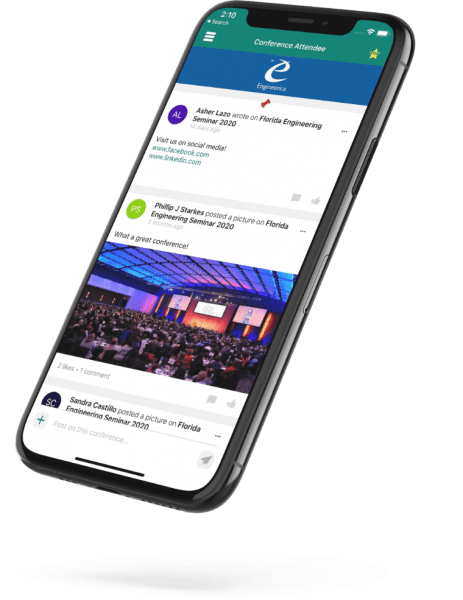 Networking is often the most important part of your event. It is how business lives, breathes, and expands. With the outbreak of COVID-19, comprehensive networking is seemingly impossible. On our platform, you will be able to meet fellow attendees, post photos, and chat about topics relating to a specific session, or the entirety of the conference. You can even set up meetings with fellow attendees to schedule video discussions for further connection and exploration of synergy. You can also participate in live polling and surveys throughout the conference, this will allow your attendees to become truly immersed into the entirety of your event whether, hybrid, virtual, or in person. Finally, attendees can network with exhibitors. They can set up video appointments with exhibitors to speak about their services. This allows for a simulated full conference experience designed for conference organizers, attendees, and exhibitors.
COVID-19 is serious and has forced many people to adjust the way they do business. Let us be resilient and face adversity with innovation and integration. Our solution and partnership will not only allow for a reduction on economic strain to our community, but it will provide an innovative and streamlined solution for the virtual/hybrid event model far after COVID-19 becomes a distant memory.