Improving the Quality of Your Virtual Event
If you are planning on holding your first-ever virtual event, the production quality of your stream might be something you are concerned about. Using dedicated software and equipment for streaming will take your event's production quality to a whole other level. Of course, if you are strapped for time, you could stick with simple webcams and built-in computer microphones, but if you are someone that is looking to wow the attendees of your event, you have come to the right place. In this post we will be going over everything you need to improve the production quality of your online event.
1) Use a high-quality microphone.
I would argue that audio quality is the most important part of your live event. If your attendees can't clearly hear presenters, it doesn't matter how good the video quality is. Make sure you are using a high-quality mic such as a Yeti microphone made by Blue or the more budget-friendly Snowball mic by Blue (pictured) to ensure that your presenters can be heard clearly. Even a regular headset mic is an improvement from most built-in computer mics.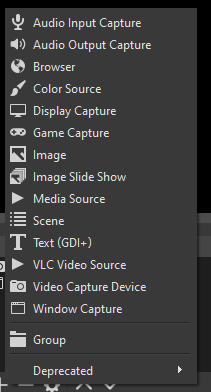 2) Use software that is designed for streaming content. 
We at Engineerica are encouraging Conference Tracker users to utilize the streaming software OBS. OBS is a fantastic tool that allows you to manage everything that will show up on your stream regardless of what streaming platform you are using, whether it be Youtube, Facebook Live, Twitch, or Mixer. You can have multiple camera feeds and audio sources as well as different 'scenes' that you can jump to with interesting transitions. Not only can you have video and audio inputs, but there is a whole slew of inputs supported by OBS such as images, media sources, slideshows, etc. (pictured left) Here is a quick example of transitioning between scenes in OBS.
3) Use a DSLR as your webcam.
If you are really looking to up the quality of your stream and have access to a compatible DSLR, you can use it as a webcam for your event! There are a few options to achieve this: 
Sparkocam lets you set up your DSLR as a webcam by just connecting it to your computer via USB. The list of supported cameras can be found in the link provided.
Another option if your camera is not supported on Sparkocam is to pick up an Elgato Camlink, which can pick up any HDMI input, so all you need is a camera that supports HDMI out. However, there are a few things to keep in mind when going this route. Even though your camera might support HDMI output, you will want to make sure that your camera has the performance required to support the demands of streaming. We also recommend picking up a power adapter kit similar to this one for Nikon cameras so that you can power your camera throughout your stream.
I hope this helps you pick the right tools when you are looking to improve the quality of your online event. If you want more information on setting up OBS you can watch our video on setting it up here. If you have any questions, or tips of your own, please leave them in the comments below!
Hope you have a great event.