Accudemia 7.0 Update Information
We have listened to your feedback and have improved upon the most requested changes to Accudemia.
In order to simplify using Accudemia, enhance your student's participation, minimize your staff's valuable time, and improve your school's services we have...
Upgraded Features
Simplified the appointment scheduling process for students and tutors
Combined similar features in a single place for increased productivity and a more intuitive design
Made it Easier to Use
Streamlined menus
Implemented 'quick views' that enable you to quickly edit info without leaving your current task
Updated the Look and Feel
Improved navigation with consolidated and organized menus
Standardized design for a consistent experience
Faster and easier appointment scheduling
Students and Tutors will have an easier time scheduling appointments and managing their own success:
Appointments are made through an efficient step by step process
All the information of the appointment being made can be viewed in the preview window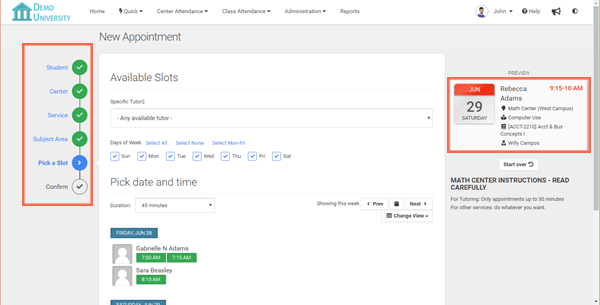 All of these changes are intended to improve the ease of use of Accudemia and make information more useful and easier to find for you, the user.
What you should expect
In the coming weeks, we will be inviting users to try the beta version. Stay tuned for notifications inside Accudemia!
In early August we will be making it publicly available before the Fall semester starts, to give you time to learn all the new improvements. Make sure to read the future updates to learn more.
Watch the Introductory Videos >