Beacons Support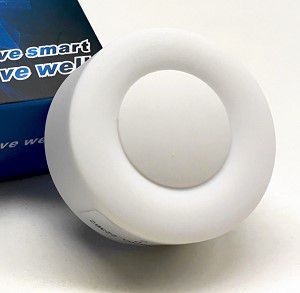 Beacons are Bluetooth low energy devices that broadcast an identifier to nearby portable electronic devices. The technology enables smartphones, tablets and other devices to be used as sign-in stations when in close proximity to a beacon.  This page provides detailed information on the beacons used with Engineerica applications.
Beacon Specs
Support iOS7.0 and Android 4.3 and above version
Transmission Distance: 164 - 295 ft. (50 to 90 meter) in open space
Customizable transmission power.
Name, UUID, Major, and Minor values can be customized.
Built-in pairing password to lock settings
Firmware: BLE 4.0 Stack V1.4x. iBeacon Protocol.
Software: MiniBeacon V1.83
Physical Specs
Shape: Round
Size: 1.42 inch diameter and 0.63 inch deep (Ø36 x 16 mm)
Net Weight: 0.74 Ounce (21.0 gram)
Color options: light pink, white, light green
Electrical Specs
1000mAh CR2477 replaceable coin battery. Can last 1-2 years depending on settings.
Supports nRF51822 chipset Bluetooth low energy 4.0 modules
FCC/ CE/ EPL / RoHS Certification
Accurate digital RSSI
Operating voltage: 2.0 - 3.6V DC
Operation Frequency: 2400 - 2483.5 MHz,    Programmable.  Frequency Error: +/- 20KHz
A power switch to turn beacon off to conserve battery
How they work:
Beacons act like light houses: They are always broadcasting a signal.  The signal is communicated one way: From the Beacon to the smart device. The smart device can detect whether it is currently in range of a beacon or not.  If so, it will be able to read the beacon's ID and figure the location.
Beacon Settings
The beacon comes with 3M double sided round tape that you can use to stick the beacon to the wall or other surface..  When setting up the beacon, you can control the distance traveled by its signal via 3 settings:
Broadcast Power / Signal Strength: This controls the range of the beacon signal.  The lowest value will require having the beacon right on top of the smart device for a read, while the highest value will cause the beacon to be read from up to 300 feet in open space.
Physical location: A beacon's signal is diminished by walls and people. To maximize the distance traveled by the beacon's signal, stick it on a wall at eye level. To reduce the distance, put it lower to the ground, under a table or in a drawer or cabinet.
Broadcast Frequency / Signal Interval: This setting controls how often the beacon broadcasts it's signal. Too often will shorten the battery's life, while too long will cause an unstable signal. We recommend a value of 350ms.
All specs are based on manufacturer information.