Tutoring Center Software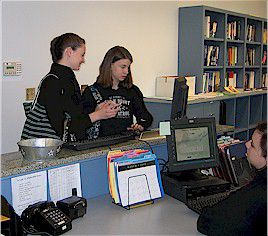 AccuTrack is used by hundreds of tutoring centers and tutorial labs across the U.S. The idea behind the software came to being when the tutoring center coordinator at the University of Central Florida asked his tutors to create a software application to replace the paper sign-in sheets and automatically compile visits statistics. A few years later, these tutors created a commercial version under the AccuTrack label.
Since its first release in 1994, AccuTrack has grown from a basic attendance tracking application into comprehensive tutoring center software. Here are some of the things AccuTrack can do for your tutoring center:
Tracking students' visits including number of visits and total contact hours.
Tracking the usage of the tutoring services.
Tracking tutors' work hours and pay.
 Managing tutoring appointments.
Tracking loaned material (e.g. headphones, calculators, text books, laptops, DVDs, etc.)
 Managing tutoring requests and tutor assignments.
Providing a waiting list to manage student intake.
 Collecting feedback from students on the quality of services provided.
 Collecting feedback from students on tutors (tutor rating).
 Analyzing traffic to the tutoring center and reporting on usage patterns, popularity of services, and much more.
 Analyzing and reporting on students' demographics.
Assessing the tutoring center's effectiveness in helping students by measuring their progress (Program Assessment).
Offering over 100 powerful and professional looking base reports.
And much, much more.
Click here for more information about AccuTrack, or sign up for a Complimentary Consultation and see what it can do for your tutoring center.