Advising Center Software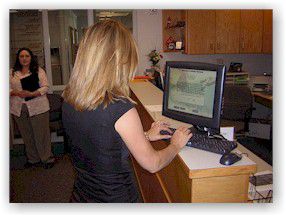 The first AccuTrack user was the advising center at the University of West Florida which ordered the software in 1998. The advising center staff loved what the AccuTrack software did for their advising center. Here is what they had to say about the software:
"AccuTrack provided our institution with a unique and dependable way to track our students' progress. Our previous "dinosaur way" of tracking student contact has now been updated to the new millennium. Thank you, Engineerica, for all of your continuous support and help with our growing program needs."
Kathy Wilson - University of West Florida
As other advising centers started to use AccuTrack, the advisors in these centers sent in enhancement requests to the AccuTrack team. These requests were answered with new features in subsequent releases. As a result, AccuTrack now has many features that were specifically designed for advising centers. For example:
 Manage the student intake process via a smart waiting list feature.
 Automatically inform advisors when a student arrives to see them via email and/or the AccuTrack Buzz program.
 Allow advisors to enter notes on the advising sessions to keep a case history for each student.
 Manage the advising center appointments. This includes matching students to advisors, sending appointment reminders to reduce no-shows, tracking missed appointments and cancellations, and more!
 Track students' visits to the advising center, including number of visits and total contact hours.
 Track advising services provided to students.
 Track advisors' work hours and utilization.
 Collect feedback from students on the quality of the advising services received.
 Analyze traffic to the advising center and report on peek usage hours, usage of services, and much more.
 Report on visitors' demographics and analyze their profile information.
 Generate over 100 powerful, flexible, customizable and professional-looking base reports.
 And more.
Click here for more information about AccuTrack, or sign up for a Complimentary Consultation and see what it can do for your advising center.