AccuSQL 2016 & AccuTrack 2016 Ready for Release
Engineerica Systems, Inc. is proud to present version 2016 of its award winning AccuSQL and AccuTrack software for official release. The AccuSQL 2016 release focuses on adding new functionality to its core products, improving existing plugins/modules, and adding new modules to enhance product usability across a wide spectrum of implementation possibilities.  This includes but is not limited to the ability to track seminar attendance, ability to grant read-only access to any screen, and a total rewrite of the Web Gateway module. To learn more about the many enhancements and additions to AccuTrack/AccuSQL and its powerful modules, read  What's New in 2016 (PDF).
With version 2016 we are also changing the licensing model for AccuSQL 2016 to make it subscription-based.  The subscription service includes all of the AccuSQL add-on modules, technical support, and complimentary upgrades.  The annual subscription fee will be based on the number of centers utilizing the software.  The new model does not apply to existing clients with an active Platinum Plus support plan.  Rather, these clients will be 'grandfathered in' and can continue using their current licensing model.
We look forward to assisting our current Platinum Support Plan customers with this exciting upgrade. Customers, who have an active platinum support plan for AccuTrack/AccuSQL, as always are eligible for this upgrade to the 2016 version at no additional cost. This includes upgrades to any AccuTrack/AccuSQL module that also has a current Platinum Support Plan coverage. To request the AccuTrack/AccuSQL upgrade, please fill out the AccuSQL 2016 Upgrade Request form at https://www.engineerica.com/platinum-upgrade-request/. Our support technicians will begin fulfilling upgrade requests starting in the next few days on a first come, first served basis.
For those unfamiliar with our add-on modules, continue reading in order to learn how they can streamline your student resource processes. Each module is a powerful student tracking tool and is available at a nominal cost. Please contact us at info@engineerica.com or call 888-249-7227 to obtain the pricing details.
Sunset Announcement for AccuTrack/AccuSQL 2014:
With the release of AccuTrack/AccuSQL 2016, we are announcing the end-of-life for AccuTrack/AccuSQL 2014 on December 31, 2016. After this date, there will be no further releases of AccuTrack/AccuSQL version 2014 of any kind, and phone, direct email, and online support will no longer be provided. Also no software updates, upgrades, or installation software will be provided, including the installation CD or software downloads. Because of the above limitations, we strongly recommend that AccuTrack/AccuSQL 2014 users upgrade to the latest version of AccuTrack before the end of this year. Versions older that 2014 are already past their end-of-life and already under the same limitations.
*If you are not a current Platinum Subscription customer, please contact us at sales@engineerica.com or call 888-249-7227 to learn how you can get back on track with your support through exciting new comprehensive software bundles.
AccuTrack/AccuSQL 2016 Modules
Web Gateway MVC
Web Gateway MVC takes online appointment scheduling to a whole new level. As with the older Web Gateway module, students have the ability to schedule, view and/or cancel appointments, register for seminars, take online feedback surveys, etc.
The new Web Gateway, however, moves away from the MS Silverlight backend architecture to an HTML5, bootstrap.css, jquery.js architecture. This change enables Web Gateway MVC to run on practically any device including tablets and smart phones. Basically, if it can run a browser, it can run Web Gateway MVC. It also means that you can control the look and feel of Web Gateway by modifying the style sheets included with it versus compiled code in the older Web Gateway that could not be modified by the user at all.
Another substantial addition to Web Gateway MVC is support for Local Labs. The older Web Gateway used only the settings from the "Default All" lab in AccuSQL. In Web Gateway MVC, when you define data connections, you not only determine the database to use for the connection, but you also select which Local Lab you want to associate with the connection. The connections you define are available for the student to select at the time the appointment is scheduled, thus opening a whole new realm of possibilities for implementation and usage.
Computer Lab Plugin
The Computer Lab Plugin allows for each PC in a computer lab to be installed as its own sign in station. The PC running Computer Lab Plugin will be in a locked state until a student enters a valid ID or optionally, a valid ID and password, and then the computer is unlocked and they can use it. When they sign out, or are signed out automatically based on your rules, the PC goes back to a locked state and waits for the next student to unlock it. You can learn more about Computer Lab Plugin on our Website or view a brief video of it features and usage.
Staff Panel
Staff Panel enables advisors, tutors and staff to access the most common features they use in AccuSQL all in one panel. Staff can see students waiting to be helped, sign them in or out, capture session notes, fill out a session questionnaire, schedule a follow-up appointment, and perform numerous other tasks all from one panel. This centralized interface save time since they would otherwise have to sign in to AccuSQL and then access the Tutor Pad Admin module and access several different screens to get to those same options.
Staff Tab
Staff Tab enables tutors, advisors and staff members to sign in and manage students from a portable Windows tablet or Winbook. This capability allows tutors or staff to carry the sign in device with them and then they can sit down with students and sign them in/out directly for a session.
Sign In Tab
Sign in Tab allows students to sign themselves in and out using a portable Windows tablet or Winbook. You no longer need a dedicated PC running AccuSQL to create a sign in station, but now you can
do so anywhere you want to locate your portable device. By using an available stand and Plexiglas case, you can add a high-tech look to your center and get all the functionality of an AccuSQL sign in station without the requirement of a bulky PC and monitor.  The Sign In Tab also works great on computers with touch screens.
iAccu
For even more portability, we offer an app called iAccu that enables you to capture attendance through an Apple device such as an iPad or iPod. Using iAccu, you can upload your (non-sensitive) data to the secure cloud and then collect attendance and sync your swipes back to your AccuSQL database. This capability allows for true offsite attendance anywhere you are able to use Wi-Fi. If you do not have Wi-Fi at the time you are collecting attendance, no worries, you can sync the device whenever you are in an area where it is available.  Note: Due to the sync process between iAccu, the cloud server, and your local AccuSQL database, the collected attendance data will be available for later reporting (not live updated).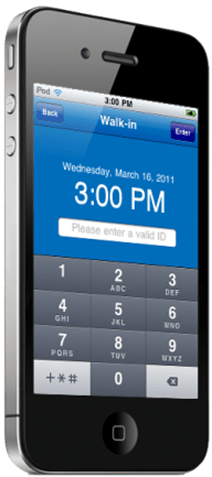 You can find out more about the iAccu app on our Website or at the iPhone App Store.