AccuSQL Computer Lab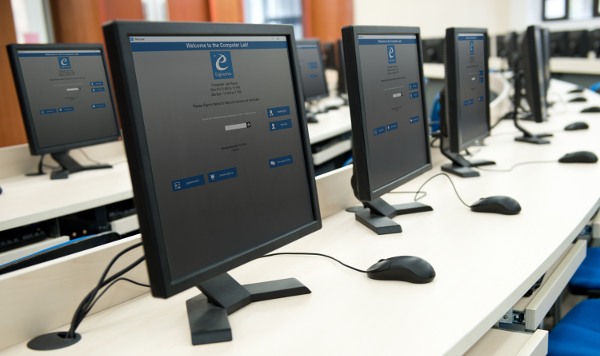 Do you need to track visits to your computer lab? Would you like to know how long a certain student used a certain application during the visit? The AccuSQL Computer Lab software will do that for you, and a lot more!
Here are just some of its benefits:
Students can sign in from the computer they want to use instead of a dedicated sign-in station that they could bypass
Ability to restrict sign-in to authorized students
Ability to display per-session usage time and remind the student after a certain time period has passed
Ability to page a lab assistant directly from any lab PC
Ability to either return to the Computer Lab software sign-in screen, logout of Windows, or restart the computer on the student sign out event **
Ability to determine who used a certain computer during a certain time period
Ability to monitor which applications the student used during the session *
Ability to check the status of computers at your lab (e.g. find out which computers are currently available for quicker routing of visitors)
Ability to automatically publish computer availability online
Ability to remotely shutdown the computers at the lab **
Ability to automatically shutdown all computers at a certain time every day (e.g. at 9 PM after the lab closes) **
Ability to prevent students from signing on more than one computer at a time ***
Ability to block student access to the Windows Task List *
Ability to work off-line: Even if your network goes down, the Computer Lab software will still work normally and will allow your students to sign in and out. This feature is also useful in reducing the load on the server hosting the AccuSQL database
Special run-time mode that enables the Computer Lab software to run under restricted student accounts
And more!
---
How It Works
You need to install this software on each computer at your lab. Students will need to sign in before using the computer. If the sign-in is successful, AccuSQL Computer Lab will minimize to give the student access to the desktop . A small "Sign Out" button will appear and will float on top all other windows. You can optionally have AccuSQL Computer Lab record the applications used during the sign-in session. When finished using the computer, the student clicks the " Sign Out " button to sign out. AccuSQL Computer Lab will restore to prepare for the next student's sign-in. The Computer Lab software uses the same database you use with your regular AccuSQL software. This means the sign-ins from the computers will be included in your reports . In addition, AccuSQL can even tell you which computer each student used.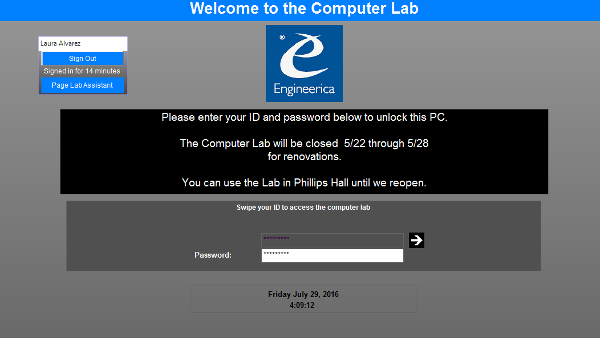 You will use the regular AccuSQL software to setup your database (e.g. enter the activities and generate reports). Since both the AccuSQL software and the computer Lab software use the same database, a sign-in recorded on the computer Lab software is immediately recorded in the database and thus immediately visible and available in the AccuSQL report (real-time updates).
---
Server Requirements
We recommend that you use Windows 2012 or 2008 Server to host the shared SQL Server database. Novell is not recommended because of its tendency to cause data corruption.
AccuSQL Computer Lab software utilizes a SQL Server database.  You can use either the standard SQL Server or the free SQL Server Express.
---
Installation
You will need to install the Computer Lab software on any computer that you want to track. To speed up this process, copy the installation software to a shared drive on the network.
---
Licensing Fees
AccuSQL Subscription Service: (Offered after February 1, 2016) AccuSQL Computer Lab software is included with your AccuSQL subscription service.  If you do not have the AccuSQL subscription, contact us for a price quote.
AccuSQL Users without a Subscription Service: Please contact us for a price quote.
---
Ordering Information
For ordering information, click here.
---
* Might not be supported by all Windows versions.
** if Windows security settings permits the running application to shutdown the computer.
*** off-line mode disables some of the other features like preventing multiple logins.