Embedding Videos and Calendars in the Accudemia Homepage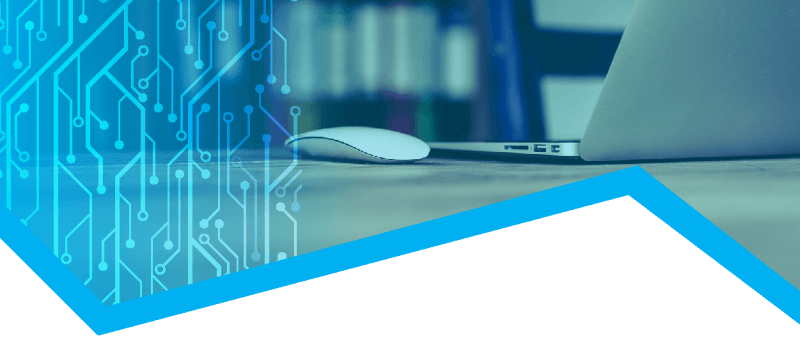 TECH TALK SESSION
We've talked before about some of the great things you can do with the homepage in Accudemia to customize it and make it more useful for your students. In this week's session, Support Specialist Jorge Rodriguez focused specifically on the News section of the homepage, which can feature some great interactive sub-sections to help your students.
To recap, the News section is an open text field that you can include as part of your account's Accudemia homepage. Account managers can display lots of information in this field, such as a welcome message, general information about the center or centers that are accessible through Accudemia, contact information, and links to virtual kiosks or specific tutors' virtual rooms. We recommend keeping this module simple in terms of colors and graphics, but a good image or some strategically formatted font can make it extra appealing to students, as you can see in the example image.
Jorge showed attendees how to embed two additional features to the News section: A video and a calendar.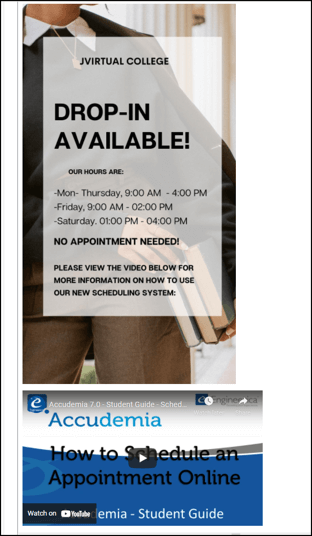 Embedding Video
There are many advantages to showing a video on your Accudemia homepage. If your center or institution has a video explaining the value of your services and how to access them, that is often more appealing to students than reading text.
To embed a video from YouTube, go to the video on the YouTube site and click "Share," and then, "Embed." Copy the code that comes up. Then, in Accudemia, go to Administration-> Control Panel -> Announcements. Post the code into the Announcements box, in the spot where you want the video to appear (e.g. after your header but before your welcome message). Once it's saved, your students, along with all your users, will now see the embedded video when they log into Accudemia!
Embedding Calendars

Displaying a Google calendar to students in the News section can be a great way to easily keep them up-to-date on the latest goings-on for your center and institution. 
Before embedding, go to your calendar in Google and make sure it's customized the way you want it in terms of colors, name, and other details. Make sure also that the calendar is set to public. Once you have it the way you want, copy the iFrame code, and then paste the code into the Announcements box as you would with the video embed code using the path mentioned in the prior section. And voila! Your calendar will display to all users who log into Accudemia.
We hope this article has helped spark some ideas for how to make your Accudemia homepage more interactive and useful for students!
Join us next time!
Engineerica Systems is pleased to present our Tech Tip segment recap for 11/23/2021 for the weekly Accudemia sessions. Held every Tuesday at 1 pm EST, Accudemia clients can join a session to learn about a quick, useful topic from one of our Support Specialists. Each week, we'll follow up Tech Tip Tuesday with a blog recapping that week's topic. If you're an Accudemia client and would like to join us for the next session, just visit https://www.engineerica.com/accudemia-weekly-sessions/.