Support Drop Box Best Practices Guide

Introduction
The Support Drop Box, also known as the Ticketing System, is a new module in Accudemia for regular Accudemia license accounts to track any support your center provides to students that are not based on a normal face-to-face or virtual meeting. It's a versatile feature designed with asynchronous academic support in mind, but it can be leveraged in a variety of ways.
This Best Practices Guide will review the basic functionality and configuration options for the Support Drop Box, as well as provide ideas for how to utilize it, many of which may surprise you!
Jump to...
What is the Support Drop Box?
The module allows students and other users to submit tickets to you with requests for assistance or other questions. They can provide the subject, a written message, and attach documents as well. They can also select a center, course, and staff member. Center staff and admins can then view the ticket and make updates, and both students and staff can be notified when the ticket is updated or added. Additional attachments can be added and comments can be made on an existing ticket by students, staff, or admins. Students can rate comments made by tutors assigned to a ticket, which helps administrators see the overall effectiveness of tutor support within the Drop Box. Staff and students can easily view their open tickets and filter by tickets awaiting a response.
Remember that the Support Drop Box is NOT meant to be a replacement for any of the existing services that you may or may not be tracking through Accudemia. You can still track your synchronous services just as you always have, and any non-time-based support that you provide that has not previously been tracked in Accudemia can now be tracked alongside your synchronous services.
To access the Support Drop Box, go to Center Attendance > Support Drop Box from the main Accudemia menu. Here you'll find the default view of open tickets, and you or a student can click "Create Ticket" to open a new one. Click on a ticket to view and make changes to it.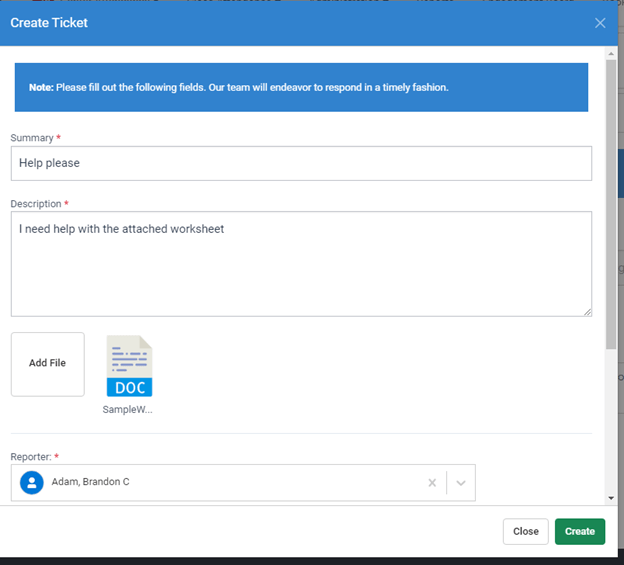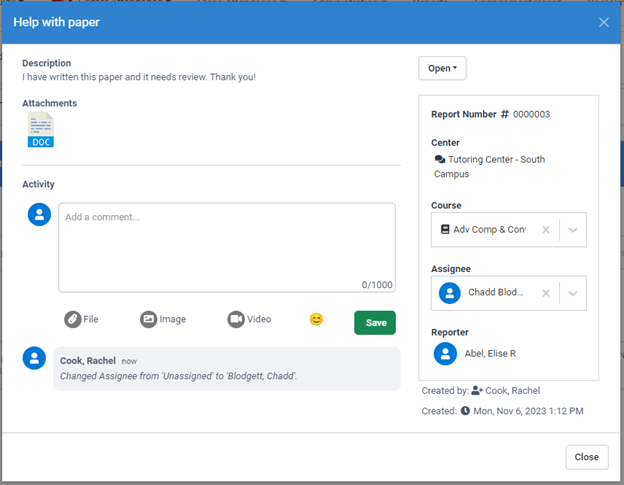 Why Should I Use It and Why Should My Center
Offer Asynchronous Support?
It's worth thinking about the potential benefits of asynchronous support for your center if it's not something you currently offer. It provides a convenient way for students to ask questions at times that are convenient for them, and it also allows staff and tutors to respond to questions at their convenience. This provides peace of mind to the student, while also allowing your staff time to respond thoughtfully. With the Support Drop Box in particular, it's easy for staff to view and respond to tickets, even ones that are not explicitly assigned to them, helping to distribute the workload more evenly.
Even if your center does not offer asynchronous support, there are many other ways this module can be leveraged, either by your department or another at your institution. Utilizing this module will provide your students with another avenue for engaging with and connecting with you, and help keep you top of mind when they need help that you can provide.
Configuration Options
Within Accudemia, you can view the configuration options by navigating to Administration > Control Panel > Support Drop Box. These are institution-wide settings, so keep that in mind if you have multiple centers on one account. Here are the options available to you:
Enable: This allows you to enable or disable the module altogether.
Welcome Message: Here you can provide a welcome message for students who access the module. If you have multiple areas using the Drop Box, you may wish to include notes on what type of asynchronous support each center offers, if any. Both this and the Instructions can include HTML coding, including images and embedded videos and links.
Instructions: This message will appear when the student goes to open a ticket. The default message instructs students to fill out all fields and that the center will attempt to respond to tickets in a timely fashion, but you may wish to put a more specific estimate here.
Email Notifications: There are several options for what notifications can be sent out automatically regarding the Drop Box, including a notification to the tutor that they've been assigned a ticket, notifications that new posts were made, and notifications about changes to the ticket status.
Additionally, language regarding the Support Drop Box can be adjusted by navigating to Administration > Control Panel > Terminology. Words explicitly related to this module that can be changed to meet your center or institution's needs include:
Support Drop Box
Ticket
Tickets
For example, if "Ticket" doesn't meet your needs, you could use a word such as "Submission" or "Request." You can use whatever language you'd like, as long as it makes sense to you, your staff, and your students.
For more information about how to use the Support Drop Box, take a look at these links:
Applications
Just like many other features and modules within Accudemia, the Support Drop Box can be used by a variety of different centers, departments, and offices, including:
Tutoring
Writing
Advising
Career Centers
Security Offices
Business and Technology Centers
Computer Labs
And lots more! Read on for some usage examples to see some ideas for how the Support Drop Box can be utilized across different locations.
Usage Examples
Paper Submissions
Many Writing Centers using Accudemia report that they allow students to submit papers for review without requiring a formal sit-down session. Tutors can review the paper and submit it back to the student with notes and suggested changes. This was one of the primary use cases in mind when Engineerica designed the Drop Box because these centers needed a way to track these "sessions" without tying them to specific dates and times.
Asynchronous Tutoring and Other Support
Another common use case is general asynchronous tutoring support, as well as support for other similar services across your institution. Sometimes, students may have a quick question and either don't have time or don't see the need to come in for a full session, so allowing them to use the Ticketing System to submit their question could be a good way to quickly respond AND track those conversations as well, ensuring both that these types of conversations are tracked in Accudemia alongside your regular Session Logs and that session time is being reserved for students who need it.
Tech Support
Many departments across a given institution utilize software programs or provide hardware that students may need assistance with at various times. The Ticketing System can easily be utilized to allow students to submit troubleshooting requests which a tech support representative can assist with.
After Hours Support
If a department or center has the manpower to offer this, they may wish to allow students to submit questions through the Drop Box after hours, so that students can be assured they won't have to wait to ask a question. This could still lead to an in-person visit during the center's normal hours of operations, but the ability to at least submit their question could provide great peace of mind to struggling students and could free up session time for issues that warrant longer meetings.
Referrals
Accudemia already contains a Referrals module, but the Drop Box can be used for this purpose as well, or work alongside it. Users from other areas that either do or do not use Accudemia can submit tickets on behalf of students, referring them to centers and allowing staff to easily communicate with them. This will work best in cases where the referral should not be kept confidential from the student, and where there does not need to be tracking for an outside stakeholder once the student is handed off. For a more formal Referral process that may be in line with your institution's policies, the Referral module may be a better bet, or both could be utilized in tandem!
Tutoring Requests
Many centers report wanting a way to track tutoring requests, either for subjects the center does not yet cover to see the larger need, or as a way to match a tutor with a student as part of their center's procedures. The Drop Box can adapt to both of these needs, allowing students to submit a ticket with a request for tutoring for a specific subject, and be easily updated when a tutor is assigned to them or to acknowledge and update them on their request, whichever is most appropriate.
Submit Paperwork
Some centers require paperwork to be submitted as part of a hiring or similar process, and if a centralized system is needed to keep track of these materials beyond email, which can be difficult to organize, Accudemia's Drop Box can fulfill that need. Hiring exercises, essay responses, and completed forms can easily be attached to a ticket and the candidate can be updated throughout the process in the secure Accudemia system.
Contests and Scholarships
The Drop Box can be leveraged for submissions if institutional offices are accepting applications for contests or scholarships. These may include sample artwork or writing, as well as application materials. It can even be utilized to upload auditions for performances!
Literary and Art Magazines
Similar to contest submissions, a college's literary and/or art magazine could easily accept submissions through Accudemia, which would keep them confidential and allow them to be seen by any applicable staff. Students can be notified of acceptances or rejections through the Support Drop Box ticket as well.
Suggestion Box
Centers can accept suggestions through the Support Drop Box regarding their operations. This is a good way to keep suggestions between the suggester and the center staff only, while allowing for transparency when the center staff reply to tickets and provide feedback about the suggestions. It's also generally useful to see a baseline of sentiments, even when sweeping changes aren't feasible. For example, if a change in hours is suggested, admins can ask questions about why the change would be needed for that student, and while a broad change to the center hours may not be possible, such a request could help accommodate the suggester and other students who may have the same concerns.
Conclusion
We hope this guide has provided you with insight regarding the versatility of the Support Drop Box module, and given you some ideas about how it might be utilized. Like most Accudemia features, it is designed to make the management of your center easier and to help engage your students in ways that you may not have been able to capture before. If you have any ideas you'd like to add to this list or any questions about this feature, please get in touch with us!