Streamline your Virtual Center and Make More Time for Students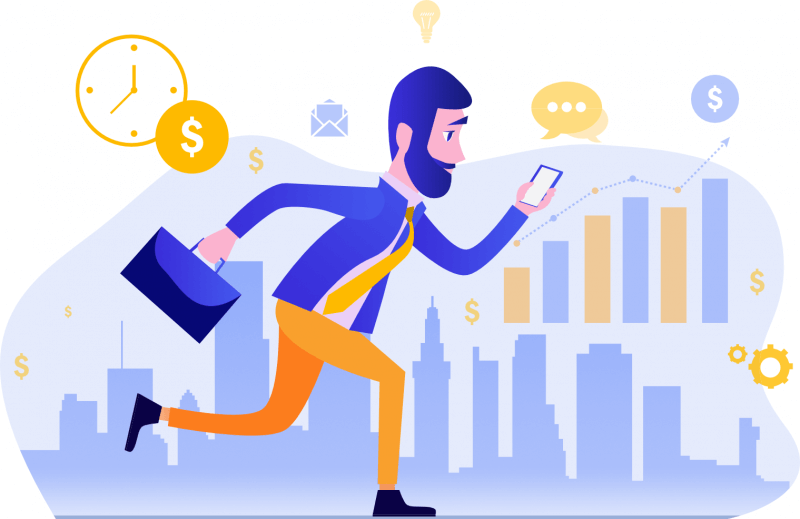 Too often academic centers use multiple unecessary technologies and a plethora of manual processes to help support students virtually. Using too many tools and technologies can lead to a loss of time that could otherwise be put towards helping your students. By changing the way you manage your virtual center you can cut down on the complexity of your day-to-day  operations like scheduling appointments, virtual session tracking, and data collection.
Scheduling Appointments
There are many different ways and many different technologies available to schedule an appointment, but the most effective option is a cloud-based solution that allows students to make appointments online from the convenience of their cell phone or computer. These solutions may include some common features such as:
Appointment Setting from any Device
Confirmation emails
Email & Text Reminders
No-Show Tracking
However, does your appointment solution connect students to a virtual session? If it doesn't, you'd have to email the virtual meeting link to each student after each and every appointment has been made; such a step would be redundant step and would lose you time you're not getting back.
Virtual Session Tracking
Whether you're offering virtual support for appointments or "walk-ins", you'll need a virtual platform such as Zoom, Skype, GoBoard, or some other platform. Choosing a solution that will not only integrate with the appointment or walk-in process but also enables you to track attendance is vital for your center. Otherwise, you are spending time manually tracking information for your virtual sessions that include:
Student Name
Sign-in Time
Service Provided
Course/Activity
Sign-out Time
Data Collection & Reporting
Creating reports and collecting data are also virtual center processes that can be streamlined. Often times, academic centers use a virtual platform to conduct their meetings but then use secondary tools such as a Google Doc to input tracking data. This type of data input is time consuming and prone to a higher rate in errors due to the fact that this information is inputted by hand. Furthermore, tools such as a Google Doc don't offer comprehensive reporting that can analyze traffic patterns and carry out other functions. In order to properly set up a schedule for your staff, you will need to know what times work best for the students, this will allow you to maximize the availability of your faculty by making them available at times that work for everyone. Unless you have a tool that can track visits and organize the data into a reportable format to accomplish this, your students may not be being supported well, or at all by your virtual center.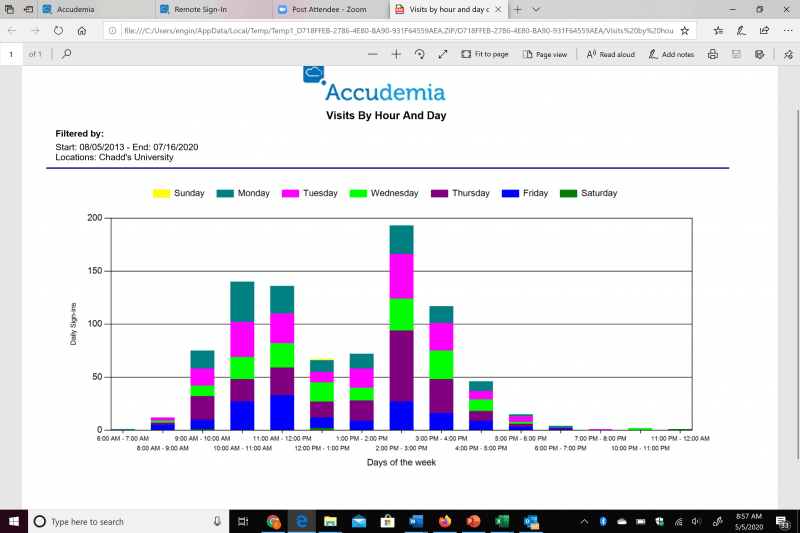 What is the Solution?
The solution to all these problems can be found in one streamlined, effective, and time-saving virtual center solution... Accudemia, a virtual center management solution by Engineerica Systems. Accudemia is a totally cloud-based and hosted center management solution that supports virtual appointments and live virtual check-ins that utilize virtual meeting platforms like Zoom, Skype, GoBoard and any other platform you may be using. Using Accudemia means you don't have to send your student a meeting link after making an appointment, Accudemia does it for you! You also won't need to undertake the tedious task of collecting the visit data manually and inputting it into a tool by hand, Accudemia tracks visits to your virtual session automatically when a student clicks on the link and joins your virtual meeting. With Accudemia you won't need to go through the arduous process of creating report, charts and graphs in Excel or a Google Doc to make sense of your data; you can simply choose from one of the many available reports automatically available to you through Accudemia. So, if you're looking to free up your time, engage with students in an effective way, and compile accurate reports based on data than Accudemia is the solution for you!