AccuClub – Apple Device Attendance Tracking App
The AccuClub app will transform your Apple iPhone, iPod touch, or iPad into a portable attendance recording device. You can use the app to track attendance at your club, gym, studio, field, and more.  Use the built-in camera to read barcodes and sign the members in. The app also supports a magnetic card reader, so if you prefer members can swipe their ID cards to record their attendance.
The app collects the attendance data and uploads it to the AccuClub software in the cloud where you can quickly and conveniently monitor and report on the attendance.  The data is uploaded via a standard WiFi connection or via a cellular data connection.  With this capability, you will view and analyze your attendance data in real time without ever connecting a single cable.
---
Download and Install
The AccuClub app is available for download via the Apple App store.

NOTE: Not all Apple operating systems are supported, you might need to upgrade your device to iOS 6 or later.
Keep in mind that you also need an AccuClub subscription to use the AccuClub app.
---
Attendance Tracking for Clubs, Gyms, Studios, Field & More
Forget about spending time manually keeping attendance records. Simply use AccuClub to automatically record the attendance information and get the attendance reports you need  There are several ways for recording attendance with the AccuClub app;
(1) Record Attendance.  The app will display a list of your members and will allow you check-in members.  Check and verify membership fees are up-to-date all from this app.
The latest version of the AccuClub app also allows you to see the photo of each member.  This will help you know each member's name and recognize members.  See the Screen Shots section below for a record attendance screen example.
(2) Scan a barcode. The app allows you to sign members in or out by simply reading barcodes with the Apple device camera! This gives you a quick way to sign members in and out. QR barcodes recommended for best performance.
(3) Swipe an ID Card. The also supports swiping ID cards with a magnetic strip with a reader that attaches to the Apple device.  When members arrive to an event or location, they simply swipe their members ID card in the optional magnetic strip reader. If the member does not have an ID card, you can key in their ID number instead.
The collected attendance data is uploaded to the AccuClub server in the clould via a standard Wi-Fi connection or via cell phone data network.  Once the attendance data is uploaded, you can view the attendance reports via your online AccuClub account.
---
Screen Shots
Here are some screen shots from the AccuClub app:
(1) AccuClub - Data Sync Screen
(2) AccuClub - Scan a Badge Screen
(3) AccuClub - Member Signed In Screen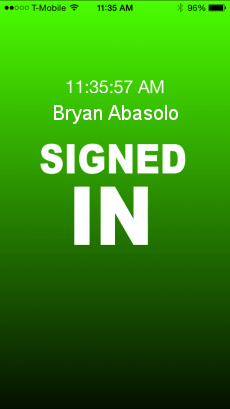 More Information
The AccuClub app is available via a free download from Apple App Store.  You will still need an AccuClub cloud account to use the system.  Organization Staff can get a complimentary 30-day trial of the AccuClub clould account by filling out the request form.